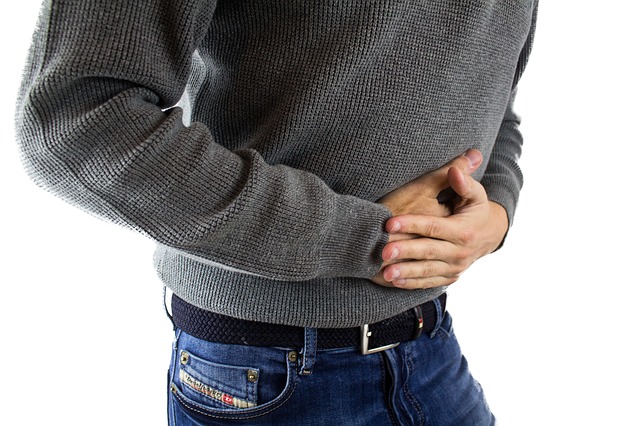 Always have that familiar dull pain in the abdomen? Bloating, feeling full, and that uncomfortable nausea haunting you all the time?
Well, you could be having stomach ulcer (there's a chance, that is).
Stomach ulcer is nothing but a sore (holes or breaks), however big or small, that has occurred in the lining of your stomach or in the duodenum (the upper part of the small intestine).
And to be very precise, stomach ulcer is a type of peptic ulcer, which can be caused in the lining stomach or the small intestine.
Depending upon what causes the ulcer, which we will cover shortly, there can be different types of ulcers too.
But for the simplicity of this post, I'm going to use the word stomach ulcer so I don't haunt you with over-the-top medical terms.
There's a mucous-y lining in the inner side of your stomach tissues that protect the tissues from the digestive juices that are secreted.
The function of the digestive juice is to digest the food that comes inside, and not to digest your own self!
Which is why we have a protective layer. But when this protective layer is tampered (or eroded), due to whatever reason, then the digestive juices start to hit the stomach tissue causing sores.
So now let's talk about the causes of ulcer.
What causes stomach ulcer?
There are two main causes! And other causes too.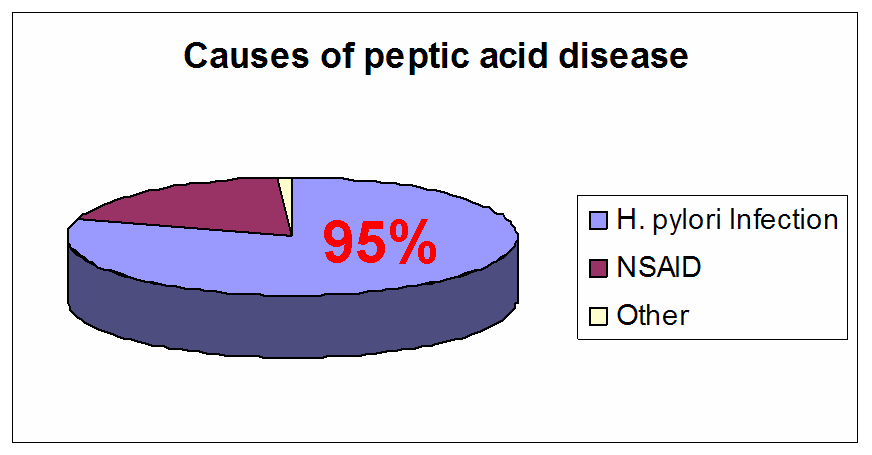 Too much or continued consumption of NSAIDs
Aspirin or Ibuprofen are examples of Non-Steroidal Anti-Inflammatory Drugs. Prolonged use of these drugs damage the lining of the intestine, causing ulcer.
Both of these drugs are something people casually take as pain killers or for other reasons.
In some countries, these are available as OTC meds (Over the counter).
About 15-35% of all the ulcer complications arise from the use of NSAIDs.
H. Pylori infection
Helicobacter Pylori is a bacterium and the infection caused due to it leads to stomach ulcer.
Earlier, about 90-95% of the people who had peptic ulcer were infected by H. Pylori. Now, its prevalence is reduced to 50-75%.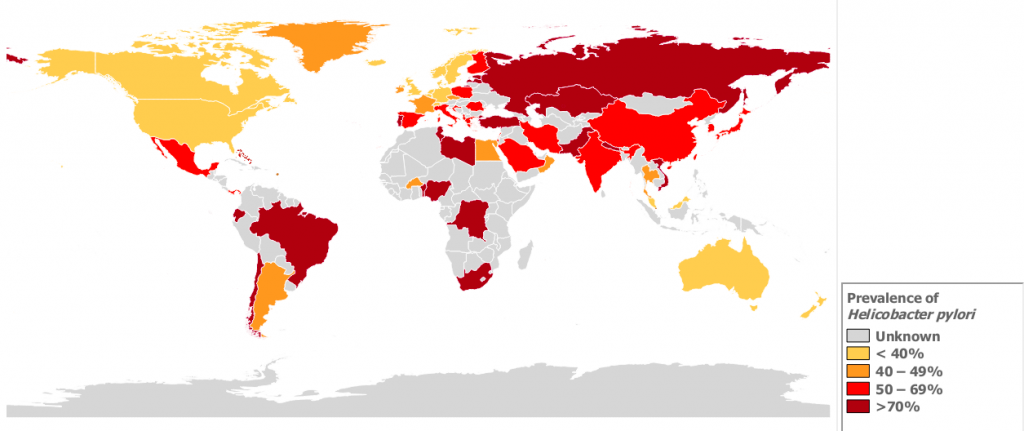 It is not very clear as to how a H. Pylori infection occurs or how it is passed on to us. Researchers believe that contaminated food and water can easily transmit the infection of H. Pylori.
And anyone coming into contact with the stools or vomit of an infected person is prone to be infected as well.
In addition, coming to contact with the saliva of an infected person can also pass the infection on.
Tumours
Certain tumours can cause ulcer. Even though this is a rare case, it still occurs. And these tumours can be either cancerous or non-cancerous.
What are the symptoms of stomach ulcer?
Most of the symptoms of ulcer concern pain or abnormalities related to stomach. And as a result, the symptoms also reflect in abnormal eating and abnormal weight changes.
Here are the symptoms:
Pain in the abdomen – can be dull or severe depending upon how severe the ulcer is
Bloating
Nausea or vomiting
Loss of appetite
Feeling full always
Food aversion (related to the pain or discomfort arising immediately after eating anything)
Dark, tarry stools
Overall fatigue and discomfort
Bloody vomit or vomit that looks so dark like coffee grounds
Burning or gnawing feeling in the stomach
Who is most likely to get stomach ulcer?
The elderly are the most vulnerable to ulcers caused by NSAIDs. And, anyone who has been taking pain killer medicines on a regular basis for a long time is most likely to have peptic ulcer.
Having an unclean lifestyle and eating habits can lead you to ulcer. Especially, if you eat out a lot, you have to be very careful.
Smoking and drinking can not only cause ulcer but can also make the situation worse if you already have ulcer.
Liquor can aggravate the symptoms of ulcer and make it highly tough to cope with the symptoms.
Smoking and drinking also interfere with any treatments you undertake for ulcer.
Last but not the least, stress can contribute to be a crucial reason for ulcer.
Complications of peptic ulcer: How worse can this get?
Fortunately, ulcer is something that can be very easily treated and managed.
However if not properly managed, paid attention to or treated, it can also lead to a variety of complications.
Perforation or formation of hole
Hole(s) can be formed in the walls of the stomach when ulcer goes unattended for a while.
As a result the digestive juices directly hit the abdominal cavity and also damage the lining of the abdomen.
This further leads to inflammation and swelling of the layers of the abdomen.
Gastrointestinal bleeding
Since ulcer robs off the lining, the blood vessels in the stomach and duodenum can be eroded or damaged. Due to this bleeding occurs.
Penetration and spreading
Following perforation, ulcer can spread to adjacent organs like liver and pancreas through the hole created.
Cancer
Ulcer caused by H. Pylori infection is 3-6 times more likely to develop into a stomach cancer.
What are the precautions to take to avoid getting stomach ulcer?
Having a healthy lifestyle
This definitely counts in keeping yourself – both at the outside and the inside – clean and hygienic.
Eat food that's prepared in a clean and hygienic environment. This automatically means not eating out, or eating out in restaurants that maintain healthy standards.
You should also see that you don't eat too much spicy stuff as this will not only provoke but also will aggravate the symptoms of ulcer.
Eating a well balanced diet helps keeping your abdominal health in check.
In general, avoiding any junk food helps a lot in the long term.
Since stress is also a most crucial factor that contributes to ulcer, make sure to lead a stress free life. Treat work like work and give ample breaks to yourself!
Make sure you get enough sleep. Keep yourself well hydrated too!
Eating at the right time also counts a lot. You should make it a habit to eat at consistent times.
Inconsistent eating times (habit) can easily lead to the damage of stomach lining.
More importantly, avoiding alcohol helps a lot in avoiding ulcer!
What are the most effective home remedies for stomach ulcer?
Let's see some of the most effective home remedies that can either cure ulcer or help keep the symptoms and discomfort in check.
Flavonoids
Also known as bioflavonoids, these can help keep ulcer in check and can heal it.
Flavonoids are naturally occurring substances found in fruits and vegetables.
Apples, Legumes, Soy Beans, Broccoli, Berries, Red Grapes are some of the foods that are rich in flavonoids.
Probiotics
These are the good bacteria that helps maintain digestive and gut health. It is in general good to have probiotics regularly in your diet to maintain a good digestive health.
Foods rich in probiotics include curd, fermented food and buttermilk. These also help with cooling the burning sensation that accompanies ulcer.
You can also get probiotic supplements.
Bananas
These are highly effective in curing ulcer.
You can eat ripe bananas straightaway or slice, dry and make a powder that you can mix with honey and consume!
Honey
Honey is a wonder food that's known for its various health benefits. It is anti microbial and a 2007 study shows that it is effective against H. Pylori.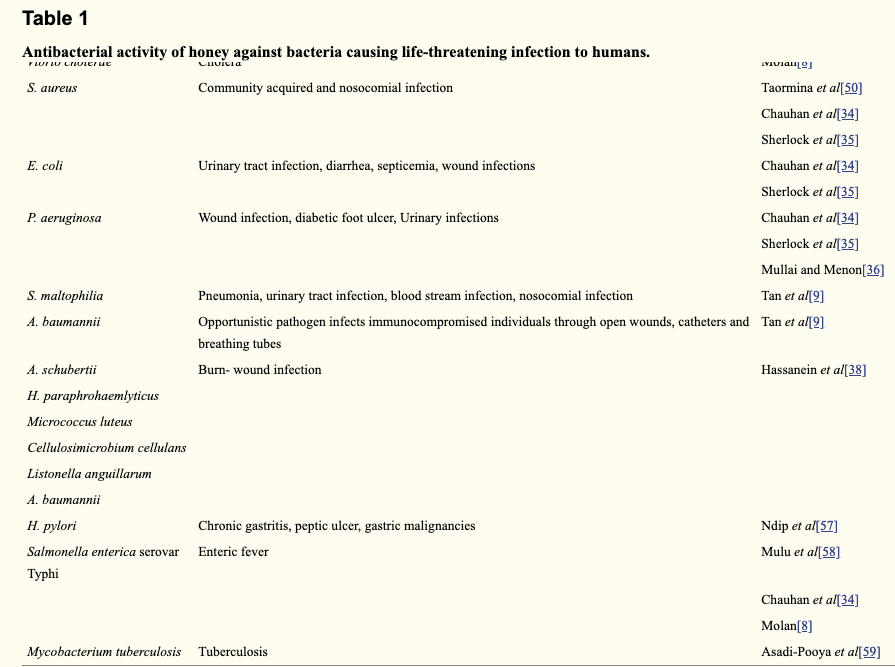 Honey can be consumed in many ways and it is not only beneficial for ulcer, but can also be good for your weight loss efforts!
For treating ulcer, you can simply take two tablespoons of raw honey on empty stomach in the morning!
Cranberry
This can be consumed raw, or as juice or in the form of supplements and it is highly effective in treating ulcer.
Coconut
Both coconut water and its kernel are highly effective in treating ulcer.
You can drink coconut water to have a soothing feel. The kernel of tender coconut can soothe and treat ulcer.
Drinking coconut milk regularly until the ulcer pain subsides will help with healing ulcer.
Polyphenol
Foods rich in Polyphenol will help with curing ulcer.
Such foods include Cloves, Dark chocolate, cocoa powder, Star Anise, Flaxseed, Chestnut.
Regularly including these foods in your diet will help reducing the symptoms as well as cure ulcer.
Foods to avoid when you have stomach ulcer
In general you should avoid the intake of junk food as they not only aggravate the symptoms but also will make ulcer worse.
Spicy foods, greasy and acidic foods are a big no.
Carbonated drinks will create a lot of discomfort by aggravating the ulcer symptoms.
You should avoid processed foods, oily foods, and foods with too much salt at any cost.
Diagnosis of and treatment for ulcer
It is very important that you properly identify ulcer and treat at the earliest for two reasons:
1. Not treating or paying attention to ulcer can only make it worse.
2. The symptoms of stomach ulcer are quite close to that of other health problems such as GERD, Stomach Cancer, Biliary Colic, Hepatic congestion and so on. If not properly diagnosed, what you think of as a simple ulcer can lead to something else!
There you go – ulcer is not a serious disease as long as you identify it from the symptoms and take proper medications.
It is equally important that you stay away from foods that could aggravate the symptoms and make it worse.
You should also make sure to lead a hygienic and healthy lifestyle!