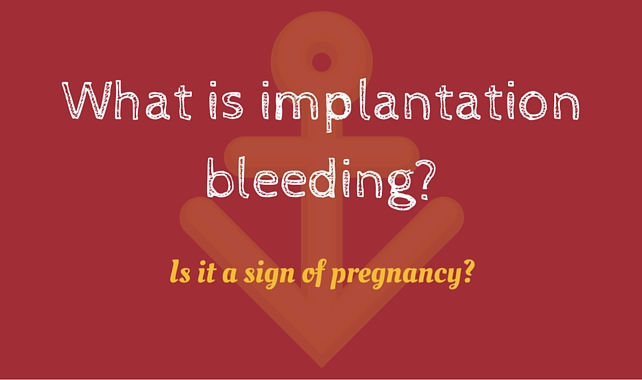 Implantation bleeding is one of those signs that indicates possible pregnancy. But often, women get distressed or worried about this.
There is nothing to be frustrated about this whole process. Actually if you are planning for a pregnancy, implantation bleeding is a proof that things are proceeding the way they are supposed to be.
Of course you can't confirm pregnancy with implantation bleeding, but it may be an indication that you are pregnant.
So every woman planning for pregnancy should be aware of implantation bleeding and how to deal with it.
[clickToTweet tweet="Is implantation bleeding a sign of pregnancy?" quote="Is implantation bleeding a sign of pregnancy?"]
Moderate low abdominal cramps, weakness, bleeding, irritability and other symptoms, typical for premenstrual syndrome, are also implantation symptoms though not experienced by every woman.
Fertilization and implantation: How do they occur?
Ovulation happens normally in the middle of the menstrual cycle. During ovulation, an ovary releases an ovum that travels to the end of Fallopian tube and waits for fertilization.
Fertilization occurs in Fallopian tubes. Normally 200-300 sperm cells reach this place, because cervical mucus works as a filter, and allows only healthy sperms to enter the fallopian tube. One of the most persistent sperm cells enters the fallopian tube to meet the ovum.
An ovum is surrounded by two layers (one outer and one inner layer). As soon as the fastest sperm cell enters the ovum, it changes the structure of the outer layer, so that no other sperms can pass the barrier. Thus, a zygote is formed, completing the fertilization process.
Once the egg is fertilized, it grows and divides into many cells. These divided cells exit the fallopian tube and enters the uterus three to four days after fertilization. The entered blob of cells burrows itself on to the uterus lining and this process is called implantation.
What is implantation bleeding?
As I just said, attachment of the fertilized egg or blastocyst to the wall of the uterus at the start of the pregnancy is called as implantation.
When the blastocyst attaches itself onto the uterine wall, the blood vessels in that attachment area get dilated.
Hence, implantation causes certain damage and irritation to the blood vessels which could result in slight bleeding. This blood passes from uterus and travels through the cervix down the vagina.
This bleeding or spotting at the time of implantation is called implantation bleeding.
Signs of implantation spotting (implantation symptoms)
Bleeding varies from one woman to another. Some women never experience this kind of bloody discharge during the early stages of their pregnancy, and some of them face it only during the first pregnancy and carry the second child without any signs.
Anyways, when compared with regular menstrual periods, implantation bleeding is always mild in nature and thinner in consistency .
When does implantation bleeding occur?
It occurs 6 to 12 days after ovulation or in some women, just before or closer to the next menstrual cycle. Try to remember the first day of your last period (you could use the Fertility Friend app).
With a stable menstrual cycle of 28-30 days, ovulation occurs on the 13th-16th day and implantation is possible within the next 10 days after ovulation.
Implantation bleeding may also be experienced 2-7 days before the beginning of the regular menstruation.
Be aware of your normal menstrual cycle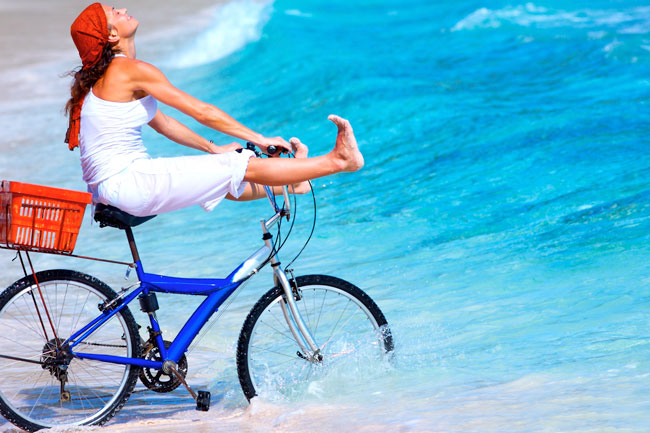 Just because you are bleeding it doesn't mean implantation has happened. There are chances that it could be the first day of your normal period.
If you are planning for a pregnancy, keep tracking your monthly cycle . To identify implantation bleeding, you must know well about your normal menstrual cycle.
Some women get their periods heavily, while others experience spotting for the first day of their cycle. Some women feel cramps before the start of their periods whereas some other feel the cramps only after they start bleeding.
So pay attention to your normal menstrual bleeding, so that it could be easy for you to identify implantation bleeding.
How to distinguish implantation bleeding from a normal period?
Most women are not aware of implantation bleeding. Usually, such women misunderstand implantation bleeding as a normal menstrual cycle. There are certain characteristics of implantation bleeding which differs from normal periods.
Volume of flow
Bleeding or spotting from implantation is light and remains light, but menstruation starts light and gets heavier. Implantation bleeding does not contain blood clots, whereas it often appears during menstruation.
Notice the colour
Bloody discharge that appears light pink or brown can be a sign of implantation. Bleeding from implantation can also look red, but it more commonly looks brown or pink in colour.
Normal menstrual bleeding appears to be bright or dark red in colour.
Nature of flow
Typically, menstrual flow continues without stopping, but bleeding from implantation can come and go. Implantation bleeding often causes spotting or bleeding for about one or two days. Whereas normal menstrual bleeding lasts between four to seven days.
How severe is the cramping
Bleeding from both the menstruation and implantation can cause cramps. Nevertheless, cramps from your period is usually much more intense.
Light or mild cramping that never increases in intensity could mean implantation, especially if it's coupled with brown or pink discharge.
Appearance of the discharge
Bleeding from implantation appears like a few blood drops. Menstrual bleeding is very heavy with clots and severe cramping.
How long does implantation bleeding last?
The amount of bleeding is not the same for everyone, every time. Every pregnancy is different and hence every women experience different implantation bleeding duration.
It entirely depends on the nature of the pregnancy or the uterus lining of a woman. It also depends on the amount of blood released in the implantation process.
Normally for a woman implantation bleeding lasts for a couple of hours and in some rare cases it lasts 2 days. But if you bleed for more than two days it is not normal. You should call your doctor immediately.
Does every woman experience implantation bleeding?
Every woman doesn't necessarily experience implantation bleeding. But around one third of pregnant women experience it. Even though it is a common phenomenon in pregnancy some women experience it and some may not.
If you don't experience implantation bleeding it doesn't mean that you are not pregnant. There is a chance for you to be pregnant without the implantation bleeding symptom.
Be aware of other possible symptoms
Bleeding in a early pregnancy always doesn't mean implantation. It may be also due to miscarriage or an ectopic pregnancy.
Both these conditions should be addressed immediately and you should consult your doctor, if heavy bleeding persists along with clots.
What can be done to prevent implantation bleeding?
Obviously, there is nothing that can be done to prevent implantation bleeding. It is a normal part of healthy pregnancy.
Actually it shows that everything is progressing in a positive way; so you should not be worried about preventing it.
Is there any treatment for implantation bleeding?
There is no treatment to stop or avoid implantation bleeding. It is the natural process that occurs during the early stage of pregnancy. So, there is nothing to worry about this.
Everything will be fine within 2 days or even within a couple of hours. The duration of implantation bleeding depends on the amount of blood released during the implantation process.
Since bleeding from implantation may cause mild cramping, soothe yourself and take plenty of rest. You can take a warm bath or put a hot water bottle or a hot water bag on the painful areas. Try to relax at the same time.
Can I take pregnancy test soon after I experience implantation bleeding?
A pregnancy cannot be confirmed just with implantation bleeding; it may or may not be an early pregnancy sign. You could take a pregnancy test 6 – 10 days after implantation bleeding.
Detecting HCG and defining its amount in the blood and the urine is advisable to confirm the result.
Heavy implantation bleeding
In some cases women may experience heavy implantation bleeding. In general, heavy bleeding during pregnancy is abnormal.
In most cases it is not a good sign at all because normal implantation bleeding is brown or pink in colour and not in high volume; the size of the ovum is not very large, it can't destruct blood vessels so much.
Some women experience heavy discharge accompanied with strong cramps during implantation. Be careful, these spasms may be a sign of an ectopic pregnancy.
Heavy bleeding with blood clots can also be a symptom of miscarriage.
Call your doctor and discuss how to proceed further to best treat these conditions.
Absolutely, light bleeding during implantation is a normal phenomenon. However, distinguishing it from other dangerous symptoms is still important.
While some may experience implantation bleeding, some will realize that they have conceived only after their missed period. Actually there is nothing to worry about implantation. It confirms your pregnancy even before your pregnancy test.
Implantation bleeding is considered to be one of the possible signs of pregnancy. But, one cannot confirm pregnancy just by implantation bleeding.