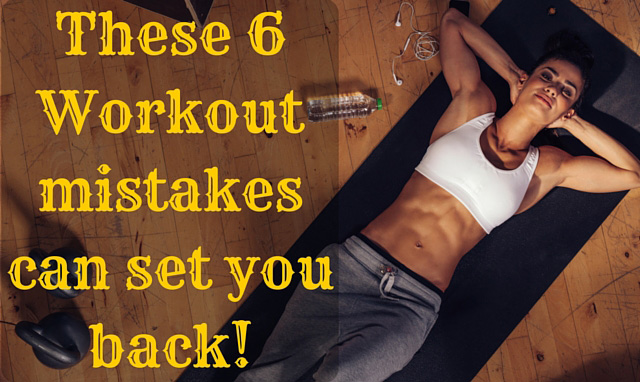 You might have pursued workouts with great fortitude either to shed weight or to build your muscles! There are certain serious drawbacks that mitigate your progress in this process.
However, these mistakes committed can be rolled back or eliminated with due diligence.
If you are able to add a certain proportion of reasoning and common sense, it is certain to overcome these difficulties and get the maximum benefit from your workouts.
If you are seriously working out, and yet not getting the expected results, you could be making these workout mistakes.
Let me talk about certain most common mistakes people make.
Starving your stomach after a workout
If you wish to convert your muscles into springs made of steel, you are required to feed your stomach within the stipulated period of time. The ideal time to consume food is 30 minutes after your workout.
By doing so, you will be able to supply required carbohydrates and proteins to your body. Your muscles will become strong. Hence, you should not deprive your stomach beyond the stipulated time.
Not following the schedule
You should have a schedule of workouts. The workouts should be well planned to accommodate the changes in a systematic way.
You should not be repeating same kind of workouts or working at the same level forever.
It is desired to have the change not only in the intensity but also in the kind of exercise you do to achieve optimum results.
If you don't change your workout pattern, you will soon hit a plateau with your output (weight loss, muscle building, whatever!).
Hence, a solid workout plan is required to get the maximum benefit from the time and effort spent on your workouts.
Missing workouts altogether
You should not miss workouts at any cost.
It is not only your commitment to shed weight or build muscles, but also your commitment and consistency in attending the workout sessions that matters most (this will tell your body and sense that you'll stay fit).
There are certain occasions which will prevent you attending the workout sessions including ill-health, office works, attending emergencies, etc.  Such kinds of situations are unavoidable.
However, you should not have room for lame excuses.
You should also not stop your workouts altogether as it is required to wait for a reasonable period of time to expect real results from your workouts.
Comparing yourself with others
It is common to compare workout results with others. However, you should take care about the comparisons.
You should not compare yourself with professional athletes who work rigorously for hours together.
As a matter of fact, everyone is unique. Your body's structure, physical stamina and thinking capability differ from others.
Hence, the right kind of comparison is comparing yourself the changes and results incurred over the past one week or one month or one year.
In this way, you will be able to witness definitive results and thus you are encouraged to continue the workouts.
Increasing calories and decreasing activities
A healthy workout strategy is one that follows eating a balanced diet and exercising effectively.
Instead of eating less quantities and exercising for less period of time, you can consider the option of eating more quantity and burning more fat through a number of exercises.
If you are still looking for optimal results, you can slightly increase the workout intensity than the food that you consume so that you can burn much amount of fat.
Not having a discipline
You should be disciplined enough not only in participating in the workout process without missing a single session but also in maintaining a healthy lifestyle.
You should have sufficient hours of sleep and aim to maintain a sound mental health.
By having sufficient social contacts and spending time with family and friends and having entertainment proportion, you could further augment the workout process.
Are you making any of these workout mistakes? If so, it is time to change your attitude, your lifestyle and the way you workout 🙂