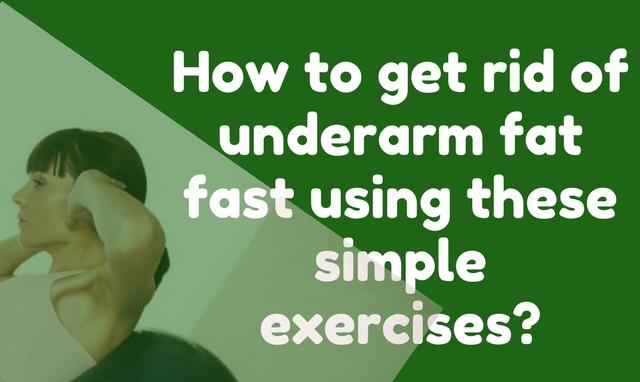 Underarm fat or underarm flab or lumps, whatever you call it, are definitely an eyesore. It hinders in your wearing the strapless or sleeveless tops which are not only desirable but also comfort wear for the summers.
Poor eating habits or food choice, toxins in the food, stress, medications, excess alcohol consumption, certain medications and alas! Your genetic traits too cause the armpit fat.
Big breasts happen to be a reason for underarm fat in women. The fat increases around it when you have larger breasts. Other factors like pregnancy, breastfeeding can also cause those underarm fat.
Exercises are a must if you want to shed off those excess fat.
Some require weights, while others can be done at home. Here's is a list of exercises that help you to lose the underarm fat –
Chest Press
You will need a mat for this. Lie on your back and hold the dumbbells and lift them up above your chest. Fold your knees up and hold your feet to the floor.
Bring the dumbbells slowly towards your chest. With your elbows, when you touch the floor, slowly lift your hand again to the air, holding the dumbbells.
Now do 10 slowly chest press exercise for the start. When your find it comfortable, do 10 quick ones, then 5 slowly, and halfway through, pulse 10 times.
Arm Circles
Arm circles are perhaps the easiest and the most basic exercise to get toned underarms. To begin with, stand straight with some spacing in between your legs.
Extend your arms, now, to the sides and keep it to their shoulder height. Keep on circling, clockwise and anticlockwise.
Do 10 rounds of each for the start. This exercise does not only help reduce the underarm fat but also helps tone the shoulder and back.
Forearm plank push-up
This exercise is a quintessential if you want those tones underarms. Of course, push up needs no gym; all you need is those lifts to strengthen your arms.
To do this, first, lie on the floor (or use a mat) with your face down. Now, keep our elbows bent under your shoulders and rest your forearms with your palms down.
Stretch out your legs in such a way that your feet stay at your hips width and let the balls of your feet touch the floor.
Keeping your lower back tight, stress the forearms and shoulders to lift your hips and bring it in line to your heels. Hold the position for 3 seconds.
Steadily increase the time once you get comfortable with the exercise. Do this step 15-20 times of two sets.
Staggered push up
It is more or less like the normal push up and works quite effectively for reducing the underarm fat. The technique is slightly different than that of the normal push up.
For the staggered push up, place one arm at the chest level and the other about 3 inches forward. Do this exercise about 8 reps each.
Shoulder Press
For this exercise, you will need a dumbbell. Start with standing with your feet keeping it at shoulder width apart. The knees should be slightly bent.
Hold the dumbbells and slowly raise it above your shoulders. The two sides must remain close to your shoulders.
Now, stretch your arms above your head and hold it there for a second.
Bring your hand back to the original position, above your shoulders. Follow the steps and do it slowly. Repeat 6-8 times.
Dumbbell flies
This exercise help you reduce the underarm fat in the exact area you want. This exercise is similar to that of the chest press.
Lie on the mat; keep your lower knee part in the air. Now, palms facing in open it slowly and let your upper arm touch the floor.
Control your moves slowly. Do slowly first 10 times, then 10 quick ones, 5 slowly, then halfway through pulse 10 times.
Triceps kickback
Keep your knees bent and slightly lean forward. Grab the dumbbells and keep the hands hanging forward front of your bent knees.
Keeping the left hand in the original position, bend your right elbow and bring the dumbbell to your side till the upper arm gets paralleled to the floor.
Take the dumbbell back while straightening your arm backwards. Rotate your arm while doing so in order to make your palm face the ceiling.
Rotate your arms back and return to the bent arm position. Do it with the next arm and follow the same steps. Do 10- 15 reps.
Airplane Extension or Flying Superman Exercise
This exercise is great for your back also works wonders for those underarm fat. To do this, lie facing down on the mat.
Palms facing down stretch your arms in the sides at the shoulder level. Lift arms, chest and legs off the floor.
Hold the position for a second to gain balance, now bring your arms forward past the head. Hold it. Come to the original position.
Lower your chest and legs and relax for some time. Repeat the steps. Do 10-15 reps of the exercise.
Always take a minutes rest in between sets and repeat the workouts. These exercises must be done 2 – 3 times weekly along with total body cardio and strength training.
Consistently and diligently follow the routine, and you can surely reduce the underarm fat and show off those toned arms of yours.
To get a toned underarm, it is imperative that you maintain a strict discipline with your diet.
Losing those underarm fat does not require any gym equipments; rather it can be shredded off through the above mentioned cardiovascular exercises for underarm fat and your restrain from the extra calories.
Avoiding junks and limiting your daily calorie intake is a must. Foods such as oats, whole wheat, nuts, and avocados must be put into the diet for giving the body those health friendly fat. Staying hydrated is a must.
Stay away from those beverages, energy drinks, soda or juice drinks as they contain added sugar and builds on calories without much nutritional value.
Also remember, if you have medical concerns, consult a doctor before taking to the exercises.