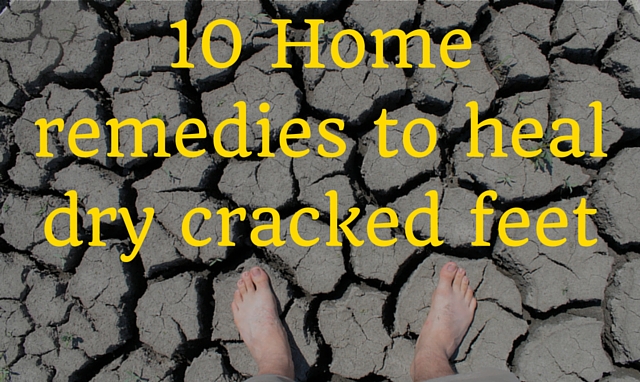 Can't buy your favourite red sandals due to the problem of cracked feet? Then it is time for you to take care of your feet properly so that they can look absolutely stunning in those new sandals.
Cracked feet are also called heel fissures. Fissures are basically linear cut wounds that effect the epidermis. Cracks may arise anywhere in the body but the most common areas include the heels and the web of toes.
This is because they are the most frequently used part of our body. The heels do not possess oil glands due to which they become dry really fast.
Dry skin is also known as xerosis. You need to take constant care so that you don't end up with cracked heels. But cracked feet are not very dangerous unless it gets painful or starts to bleed.
These usually leads to infections which should be avoided at all costs. Though most of the time these cracks in feet occur due to overexposure or lack of moisturising, sometimes you acquire cracked feet due to diseases like diabetes or hypothyroidism.
Symptoms of cracked heels
There are certain symptoms of cracked feet. They include:
Red patches which are flaky are the most common symptoms. Don't make the mistake of ignoring this symptom because it may deteriorate and end up causing infections.
The second common symptom is the peeling skin at your heel. When this happens, it confirms the fact that the cracking is happening due to dry skin. Do not pull off the pieces of dry skin as this could damage your skin. If you need to get rid of a long piece of dead skin, you can use a small pair of scissors to clip away.
One more symptom is itchy skin caused by the abnormal shrinking of the upper layers of dry skin. This leads to stretching of the skin below and around the affected areas. There is discomfort and a constant itchy feeling and this results in general discomfort and itchiness.
To keep your heels free from all those ugly heel fissures here are ten home remedies for cracked feet that will get rid of the dead skin and make your heels look fantastic.
Honey and milk go hand in hand
To keep away from the cracks in feet makes sure you moisturise, cleanse and exfoliate your heels at regular intervals.
But if you already have started experiencing cracked feet then use the homemade concoction made of honey and milk to exfoliate your skin properly. Keep the ratio of honey and milk as 1:2 no matter how much of the mix you need.
For every one cup of honey, you should pour two cups of milk. Pour these two ingredients into a foot soaking basin and soak your feet for at least twenty minutes. After that start massaging your heals while your feet are still in the foot soaking basin.
Continue for about ten minutes and then wash your feet with lukewarm water. This will fix your cracked feet in a couple of weeks.
The Magic of Olive Oil
Olive oil makes your feet stay smooth and healthy. The moment you get cracked feet start the olive oil therapy. Take a good amount of olive oil on a cotton ball and massage it on your feet creating circular motions.
This act needs to be carried on for about fifteen minutes. Wear a pair of thick cotton socks. After an hour take them off and wash off the oil.
Take one tablespoon of olive oil and one tablespoon of lemon oil and mix it with equal amount of water to make a special cream that you can apply for a few times throughout the day.
But the best time to make use of this olive oil therapy is at night before bed.
The fantastic pair of Rosewater and Glycerine
Glycerine mixed with rosewater makes a wonderful solution that will keep heel fissures far away from you. Make a solution containing three fourth part rosewater and one fourth part glycerine. Add lemon juice to it.
Now in soak your feet in a tub of warm water that is mixed with one tablespoon of salt. After soaking for about fifteen minutes rub your feet with a pumice stone to get rid of the dead cells.
Take your feet out and dry properly and then apply the glycerine-rosewater solution. Apply it either at night before going to bed or after a bath.
With Paraffin Wax the pain disappears
Paraffin wax is extremely effective if you have cracked feet which causes you pain and uneasiness. Mix some paraffin wax with either coconut oil or mustard oil. Heat this mixture in a pan till it melts.
Do not apply the paste before it melts to room temperature. The best time to apply it is before you go to bed. Make sure you wear a pair of socks over it.
Wash it off when you wake up in the morning and be presented with smooth and health feet in a week or two.
The power of a Fruit Mask
Fruits not only keep you healthy but are also extremely effective when you apply them to your skin. The main fruits which repair cracked feet are banana, avocado and papaya.
To make this fruit mask mash banana and avocado together and add coconut flesh to it which has been retrieved from half a coconut. Mix it well and apply it to your heels.
Leave it for fifteen minutes and then wash it off. Keep applying it every day till your feet are as good as new. If your heel fissures are not that deep then you can just make the past by mixing the two fruits.
You can also substitute bananas with papayas.
Oatmeal Also Comes in Handy
Ever imagined that oatmeal could help you fix cracked feet? Well, they do and are extremely effective. To make the antidote for your cracked feet mix one tablespoon powdered oatmeal with some jojoba oil to make thick paste.
Apply this paste on the heels of your feet over the cracked parts. Leave it on for about half an hour and then rinse it off with cold water and then dry it. Continue this every alternate day and bid your cracked feet adieu.
The Vinegar Remedy
Vinegar contains acetic acid which exfoliates the skin. This is the reason why it works wonders on your cracked feet.
Make your vinegar soak by adding one fourth cup of vinegar mixed with olive oil to a soak basin containing three fourths of warm water.
Soak your feet for about ten minutes and use a pumice stone to rub your feet after that. Don't forget to dry it properly.
A Diet Rich in Vitamin E
If you've started suffering from the problem of cracked feet then it best for you to avoid junk food. At this time you should follow a diet which is rich in Vitamin E.
The ingredients that provide vitamin E to your body are parsleys, almonds, apricots, sunflower seeds and avocado, broccoli, taro, papaya and turnip greens.
Try to involve these items as much as you can into your daily diet. They ensure perfectly healthy skin and keep your feet smooth and healthy.
Lemon Juice heals your cracked feet fast
If you assume that lemon juice is just good at whitening your skin then you are wrong. It has other advantageous uses as well.
Lemon juice is a great remedy for your heel fissures. They are acetic in nature which removes the dead skin fast and replaces it with new and smooth skin.
Cut a lemon into two halves and use one half of it over your heel by transferring the juice into the cracks. Gently scrub your feet with a brush and then wash it off.
You could also use lemon by adding it to lukewarm water and soaking your feet in it for about fifteen minutes. Or you could also resort to mixing it with papaya and then applying it to your feet.
Sesame Oil
If all the other remedies seem a bit too difficult then massage your heels with sesame oil every night before you go to bed.
Keep massaging till it blends in well with your skin. If it does not mix well with the skin then it will not start working effectively.
Cracked feet are commonly seen among senior citizens. In addition, production of sebum decreases with age and therefore seniors tend to suffer from dry and cracked heels.
Skin which is dry, peeling skin, cracked skin on the heels are common skin problems that seniors face. Dry skin on the heels is often a recurrent problem.
It can affect either both the heels or one of the heel. Also the people who are on their feet all day and do not get enough time to take care of it end up with these heel fissures.
So resort to these home remedies for cracked feet if you are faced with the problem of heel fissures. They will heal your feet faster than any artificial ointment.