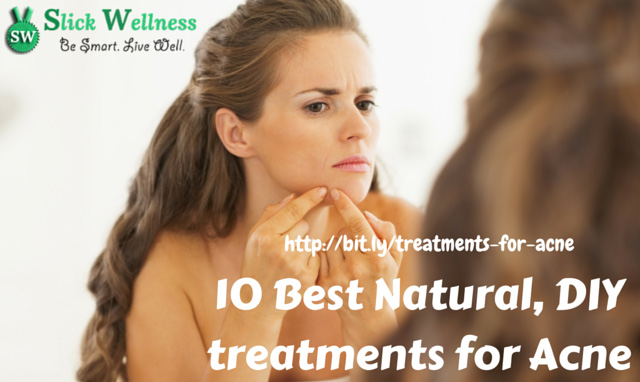 Adolescence is a blissful period for a human and obviously, everyone expects to look more beautiful. No one (of any age) wishes to have damaged skin in their joyful time.
Acne is not a danger threat, it is quite common and naturally treatable and there is nothing to worry about acne.
Acne can affect people of all races and all ages, but it most commonly affects adolescents and young adults.
If you're wondering how to get rid of acne fast, this post will help you do that; the treatments for acne listed below are all DIY.
What is acne?
Acne is an inflammation of the skin in which the secreted sebum gets collected and clogged in the pores of the skin.
Generally, it occurs when hair follicles get clogged with dead skin cells and oil from the skin.
Usually, acne occurs on the face but they can also occur on the back, neck, chest, shoulders and upper arms.
Acne may also occur due to hormonal imbalance during adolescence and heredity.
Causes of acne
Genes and hormones is the cause of almost all cases of acne. But it can also be caused by bacteria, sensitivity of skin or some other underlying health problems such as poly-cystic ovary syndrome.
Types of acne
Depending on its severity, acne is classified as non-inflammatory acne, inflammatory acne and cystic acne.
Non-inflammatory acne: This type of acne is characterized by blackheads and whiteheads. Moreover it is mild and does not result in redness or inflammation.
Inflammatory acne: Papules and pustules fall under this category of acne.
Papules appear as small pinkish color bumps without pus whereas pustules are also small bumps on the skin that is filled with pus. Pustules are similar to papules but they contain a yellowish or whitish looking pus.
Cystic acne: This type of acne is very severe and can cause permanent damage to the skin. Cystic acne appear as cysts and nodules.
Nodules and cysts are embedded deep into the skin. They are very large, red and inflamed blemishes that may cause severe pain and irritation.
Moreover, this type of acne can cause deep permanent scars.
How to get rid of acne fast? Natural, DIY treatments
Instead of opting for expensive acne treatments, try natural DIY home remedies. They are less harsh and do not cause any side effects easily.
Apply these natural remedies to all affected area and not just to each spot, because while applying only to the spot, the effect of topical treatments may be less.
#1 Apple cider vinegar
The alkaline property of apple cider vinegar helps to balance pH level of your skin and removes excess oil.
Apply apple cider vinegar to get rid of acne
Dilute 1 part of apple cider vinegar with 2 parts of water (get organic apple cider vinegar here or here).
Dip a cotton ball into the diluted mixture and apply it directly on the acne.
Leave it on for 20 minutes and wash it off with clean water or a cleanser.
#2 Cinnamon and honey mask
Honey is a natural astringent and loaded with antioxidants and other nutrients that nourish, cleanse and hydrate your skin. So it is great for acne treatment and prevention.
Cinnamon has antimicrobial properties and using it externally is a great spot treatment.
This is a great all-purpose acne home remedy.
Cinnamon and honey mask treatment for acne
Wash your face with clean water and pat dry.
Take 2 tablespoons of honey with 2 teaspoons of cinnamon and mix well. You can buy organic honey here or here.
Leave it on for 15 minutes and rinse with warm water.
#3 Indian Lilac (Neem)
Indian lilac commonly known as neem is a well known herb used in Ayurveda, naturopathy, unani and homeopathic medicines.
Neem has antibacterial, antiviral, antiseptic, antimicrobial and anti-fungal properties that help to treat many skin problems.
Neem is a good option for acne free healthy skin.
Apply neem leaves to remove acne
Grind some fresh neem leaves to a fine paste.
Apply it on the acne affected area.
Allow it to dry and rinse it off  with clean water .
Turmeric and neem oil mask
Mix turmeric powder and neem oil to a fine paste.
Apply the mixture on the affected area.
Allow it to dry and rinse it off the next day morning.
This mask works as an excellent remedy for acne. Antiseptic property of both turmeric and neem helps to fight acne lesions.
#4 Tea tree oil
Due to antimicrobial and antiviral property of Tea tree oil, it works well with acne.
It also contains natural antibacterial property that makes it as an excellent remedy to kill the bacteria causing acne.
Tea tree oil with homemade scrub
Mixing tea tree oil with other natural ingredient serves as a excellent homemade scrub and works effectively with acne.
    Take 1/4 cup of olive oil, 1 tablespoon of honey and few drops of tea tree oil. Click here or here to get tea tree oil.
    Mix all these ingredients and massage gently on the face .
    After that, wash it off with warm water and pat your face dry.
Combination of tea tree oil and aloe vera gel
Take 1 tablespoon of aloevera gel and mix few drops of tree tea oil in it.
Mix it well and apply on the spots or all over the face.
Wait for it to dry and wash it off with luke warm water.
#5 Egg white mask
As we all know, Egg is a rich protein source. Eggs are also a source of vitamins, including A, E and K and a range of B vitamins such as B12(energy), riboflavin and folicacid.
These proteins and vitamins help to rebuild skin cells affected by acne.
Egg white mask for acne skin
Wash your face with water and pat dry.
Crack an egg and separate the white from the yolk.
Beat the egg white until it becomes fluffy.
Dip a cotton ball into the egg white mixture and then spread evenly on the face.
Allow it to dry for 30 minutes and rinse it off with lukewarm water
After you have rinsed off the egg white completely, rinse once again with cool water.
This mask helps to tighten the pores in the acne prone area.
Tea tree oil with egg white mask for acne
Take white of one egg and whisk it with 4 drops of tea tree oil.
Apply this on your skin as a facial mask.
Leave it for 30 minutes and rinse it off with a cleanser.
#6 Baking soda
Baking soda is sodium bicarbonate.
It is a good exfoliating agent that helps remove dead cells. In addition, it balances the pH level of the skin, which is very important to maintain even and clear skin tone.
This alkaline substance also has antibacterial, anti fungal, antiseptic and anti-inflammatory properties and so works excellent on the acne prone skin and removes excess oil.
You can get your baking soda from here.
How to use Baking soda to cure acne ?
Mix a teaspoon of baking soda with a little water.
Apply this on the acne affected area.
Leave it for 2 minutes and rinse it off with cold water.
#7 Lemon Juice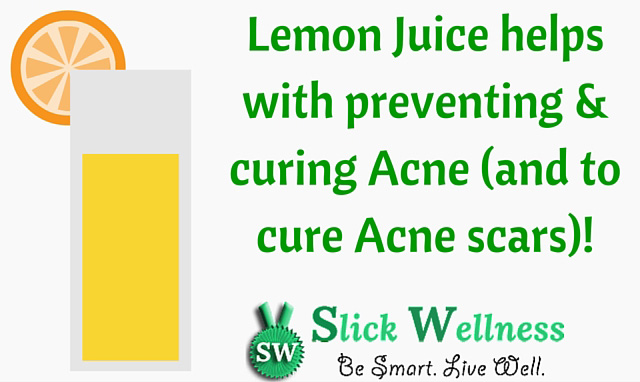 Lemon is one of the natural, inexpensive and easily available ingredient at almost all the houses. Besides cooking, it also plays a vital role in skin and hair disorders.
Lemon is a natural bleaching agent that helps to reduce the redness and the inflammation caused by the acne.
Citric acid content of the lemon acts as a natural exfoliating agent and removes dead skin cells.
Apply lemon overnight to get rid of acne
Take a lemon and squeeze its juice.
Dip the cotton ball in the squeezed juice and apply it directly on the acne affected area.
Wait overnight so that lemon juice dries on the skin.
Rinse it off the next day morning with cold water.
You can also directly rub a piece of lemon on the acne affected area of the skin.
Lemon and cinnamon to treat acne
Mixture of these two ingredient acts as an excellent mask for treating acne. This mask is able to kill acne causing bacteria and it also improves blood and oxygen circulation, therefore helping by unclogging and opening pores.
Add 2 tablespoon of lemon juice and 1 tablespoon of cinnamon.
Mix it will until getting a smooth paste.
Apply the mixture on the acne affected part of the skin.
Leave it on for 30 minutes and then wash it off with warm water.
#8 Oatmeal mask
Apart from healthy food, Oats is also an effective cleansing and acne treating agent. It acts as a natural moisturizer by removing the dead skin cells.
I use this Oats (you can also get it from here).
How to use cooked oat meal to treat acne ?
This homemade facial mask can rejuvenate your skin and help clear acne.
Boil a required amount of oatmeal till it softens and allow it to cool for 15 minutes.
Apply it on the affected area and rinse it off after 15-20 minutes.
Oatmeal and honey mask for treating acne
Grind the oats to a fine powder.
Mix the powdered oats with honey and lemon juice.
Apply this mixture on your face and leave it on for 20 minutes.
Remove the applied mask with cold water and pat skin dry.
#9 Make use of orange peel
Orange not only tastes good, but is also good for skin and treats many skin disorders.
Orange fruit is the best source of vitamin C, which is good for health and skin as well.
Orange peel is considered to be one of the boons for skin care as it cures acne and brightens your face.
Apply orange peel paste to get rid of acne
Rinse your face with cold water.
Grind orange peels in a blender and add a little water to make a paste.
Apply this mixture on the acne affected area.
Wait for 20-30 minutes and wash it off with cold water or cleanser.
Orange peel and milk face mask to beat acne
In a small bowl, mix 2 tablespoons of orange peel powder (you need to dry the orange peels first to make a powder) with milk.
Apply the mixture on your face and allow it to dry for 20 minutes.
Rinse it off with warm water.
#10 Eat healthy
Fighting acne requires both external and internal treatment. As part of treating acne, it is important to follow a well balanced healthy diet. So make some changes to your diet.
Increase the consumption of salmon fish, lamb and chicken.
Include probiotic rich foods such as yogurt and soft cheese in your diet.
Foods to avoid for acne-free skin include hydrogenated oils, gluten, wheat, sugar and conventional dairy.
Food substances that are high in sugar level can lead to the growth of pore clogging cells and thus result in a sudden acne breakouts. So try to avoid white rice, white bread and sugar.
Try one or more of the above mentioned acne remedies to treat acne prone skin and see how your skin responds.
Take good care of your skin.