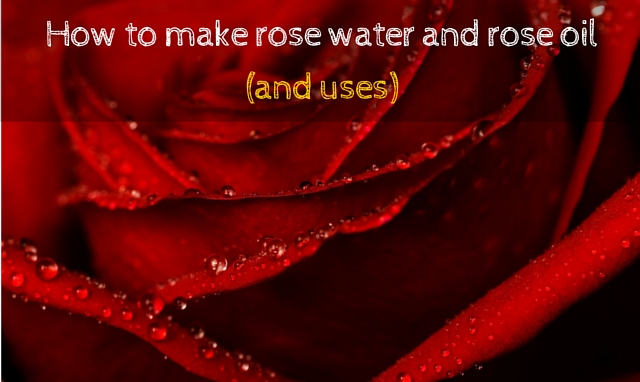 Roses are one of the coolest nature's gifts. They're not only lovely to look at but also have a gentle fragrance that refreshes.
We have quite a few types of roses in our garden that blossom all year round. I make it a habit to visit the garden every morning to look at all the flowers including rose and smell the fragrance.
Now it doesn't stop there. If you want to bring that awesome fragrance of roses into your house and as well as into your skin care and hair care regime, you could prepare rose water and rose oil from the petals.
Of course, commercial rose water and rose oil are available. But you can't be proud enough to have those created at your home! Plus you can be sure that the rose water and rose oil you make at home does not have the strange chemicals that are added in the commercial ones.
How to make rose water?
Well you need rose petals in the first place. If you have your own blossoms, great. If not, you can always buy roses or rose petals from your local flower seller.
Gather two hands full of rose petals. Any kind of rose will do. But if you have your own preferences for the fragrance, make sure you gather those petals that have your desired fragrance.
Take a bowl and put the petals inside. Clean the petals with water (you might skip this step if you are using petals from your own garden).
Pour water in the bowl to cover the petals. Now take a bigger saucepan and pour some water in it (you don't need much water) and bring it to boil.
Now place the bowl with petals and water inside the saucepan with boiling water and cover the bowl with a lid. Leave it for about 30 mins to 1 hour.
After that, remove the bowl with petals from the saucepan and filter the water into a different fresh bowl. Use a glass jar if possible and avoid plastic jars, since the heat from the rose water will react with the plastic and cause unwanted reactions.
You can put this water in the fridge and use it when needed!
How to make rose oil?
Rose oil or rose infused oil is another wonderful way to bring the fragrance into your house. For making rose oil you need to use any kind of light oil that doesn't have a strong fragrance in itself.
I prefer coconut oil or olive oil. Jojoba and grapeseed oil are great choices too.
Collect two hands full of rose petals. Don't wash them in water to clean them as you did before! If you do so, you might spoil the oil.
Take a glass jar and put the fresh rose petals in it. Crush the petals gently with your hand before you drop them inside the glass jar.
Now pour oil on top of the petals just so the petals are fully immersed in oil – make sure there's enough oil for the petals and that the petals are freely placed in the oil.
Now the process of infusion can be done in two ways.
A relatively faster method to infuse rose oil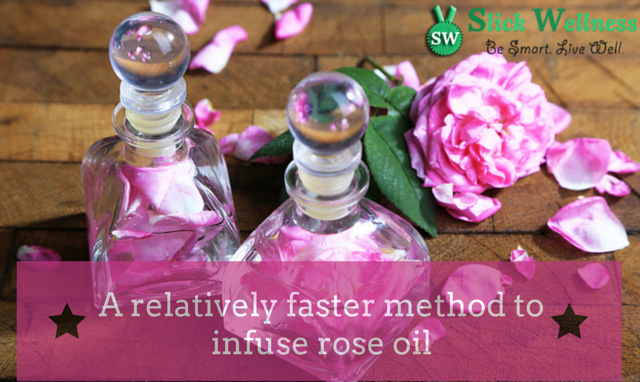 If you are impatient and want your rose oil right now, take a sauce pan and pour some water in it and bring the water to boil. Now switch off the flame and place the glass jar inside the water – make sure the glass jar is tightly closed and that the jar is not floating around in the water (pour out some water if you have to).
Let it sit in the warm water for about 5 hours. If the water turned cold depending upon your room temperature, slightly re-heat the water and let the jar be in for about 5 hours. If you have the patience to let it sit more, then it is fine too.
Leave the jar to cool overnight and filter out the oil the next day.
A relatively slower method to make rose oil
If you can wait for a few days, two weeks to be precise, you can make rose oil by slow infusion. In my opinion this is much better than the previous method and lets infusion happen slowly in a more natural way.
Crush the rose petals with your hand and drop them in a glass jar. Pour enough oil to cover them up just as said in the previous method, and tightly close the jar.
Now place the glass jar in a sunny area – in direct sunlight (with lid on, of course!). You have to religiously keep the jar in sunlight every the morning for a minimum of two weeks.
After about a week, you will see the oil to change color which is a good sign.
If the place you live doesn't get enough sun, you might want to extend the infusion time to 4 weeks!
The more you let it, the stronger the scent blends in the oil.
Once you're done, you can filter the oil in the same way you did before.
Now that you have your rose water and rose oil, let's see how you can put those to good use!
But before that, make sure you store the rose oil in a cool dry place. As to rose water, if you refrigerate it right after preparation, it will be good for up to two weeks.
How to make use of rose water and rose oil in your skin care and hair care routines?
Rose water is an excellent cleanser and toner. So you can use rose water in as many ways as you can in your skin care routine. Here are some of the uses:
Use rose water and rose oil in as many ways as you can in your skin care routine
Click To Tweet
1. Use rose water to reduce puffy eyes
I hope you have refrigerated the rose water. Take a cotton pad, damp it with rose water. Lie down with your eyes closed and then place the pads over your eyes. Relax for 15-20 mins.
You will not only reduce puffy eyes, but you will also find yourself relaxed!
2. Rose water mask to improve complexion
Yes, rose petals are very helpful to improve your complexion. Take 1 tablespoon of gram flour and add rose water just enough to make a paste.
Apply this mask on your face and leave it for 10-15 mins. Then rinse with cold water.
Repeat this 3 times a week.
3. Anti pimple and anti acne mix – Rose water
If your skin breaks out a lot, you can use rose water to keep the acne and pimples in check. Rose water when mixed with lemon juice can act as a cure for acne and pimples. You have to make sure you use them regularly on your skin but at the same time, don't over do it.
Also make sure you don't apply this mask if you have to expose yourself to sun the same day or very next day.
4. Rose water cleanser
Rose water acts great as a cleanser on your skin and I'm sure cleansing is a very crucial part of your skin care routine. Slightly damp a cotton ball with rose water and wipe your skin, not missing out your chin, temple and the areas around your eyes.
Repeat with one more cotton ball if needed. Doing this everyday will make your skin clean and glow with freshness.
5. Freshen your body and mind with rose water
Add two full cups of rose water to your bath water. You will not only feel fresh after your bath but the fragrance of rose will also calm your mind and body and will give you a relaxing effect.
Plus your skin get cleansed throughout and you will feel fresher, longer.
6. Rose oil massage
Due to the calming and soothing effect of the fragrance of rose, rose oil is highly effective when used in massages. This kind of massage not only relaxes and refreshes your body but also has medicinal properties.
For instance, women can relieve themselves of menstrual cramps and feel better by having a rose oil massage during their periods.
Not just that, the fragrance of rose oil also has a good effect in the hormones that it can regularise periods.
7. Aromatherapy
If you're a fan of it, rose oil is a must in your kit. The fragrance can work wonders and can improve the benefits of your aromatherapy just like that.
8. Rose oil for sore and cracked feet
Rose oil can work wonders on your feet too. If you have cracked feet or sore feet warm up a little water in a bowl. Now take a big non-plastic tub into which you can soak your feet.
Add some sea salt into the tub, squeeze half a lemon (and put the skin inside which you can use to scrub your feet), and add few drops of rose oil.
Soak your feet for 15-30 minutes and read a book (or relax however you want).
Every few minutes you could massage and/or scrub your feet with the lemon skin. After 30 mins, wash your feet with cold water.
If you have very bad cracks, do this at least 3 times a week.
You now know how to make rose water and rose oil!
Don't you? So what's stopping you? It's not rocket science. And you don't need any "special" ingredients to do so!
Rose water and rose oil will form a crucial part of skin care routine, so don't miss out!
As to how to use rose water and rose oil in your skin care routine – I've listed only a very few uses here as I didn't want to overwhelm you. Hope you try these out!