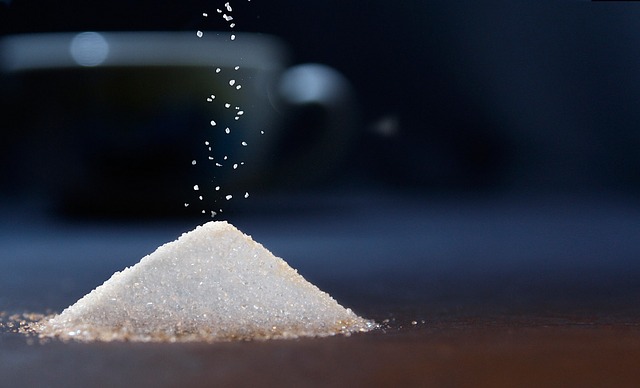 Sugar is something we consume on a daily basis, knowingly or even unknowingly.
When we think about sugar, what comes to our mind is the sugar in a jar – the one we measure with the spoon and add to our coffee, tea, milk or other foods.
But even unknowingly, we take in a lot of sugar in the form of processed and packaged food.
What sugar does to your body?
In simple words, you enter a vicious cycle.
You get tired, you get hungry, you eat sugar, sugar enters your bloodstream, your blood pressure rises and your brain gets the dopamine effect.
This causes a rise in the insulin level and hence your sugar levels drops down dramatically.
And you reach out for sugar once again. This goes on and on.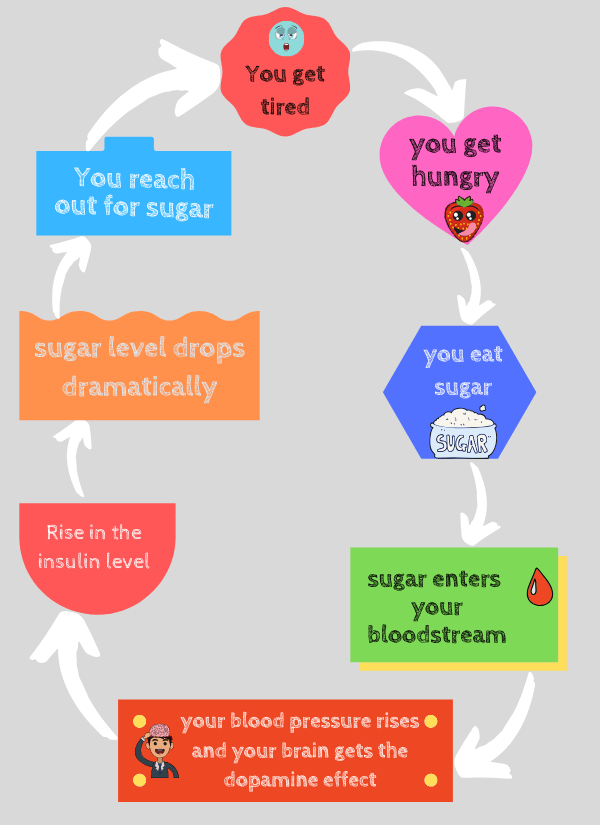 Here's something worse…
Well, things don't stop with you taking a few tablespoons of sugar with your coffee or eat cake.
The effects of sugar intake in the brain is so similar to the effects in the brain due to consumption of cocaine.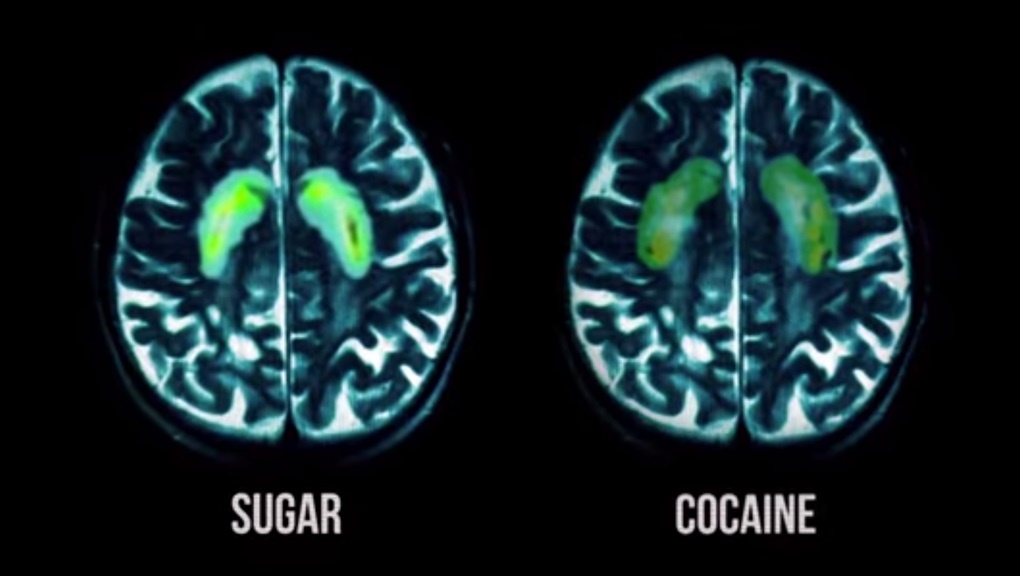 Since sugar keeps people addicted, it has become a multi-million dollar business.
And the food industry is so keen on making us eat more and more sugar – especially targeting the kids.
We can see ads for food items like cereals, cookies, chocolates and other processed food items that claim them to be healthy.
You could be easily consuming up more than 20 spoonfuls of sugar in a given day without even knowing about it!
If we consider children, the situation is even worse. Children as young as 9 years are being diagnosed with diabetes.
This is because they are presented with a lot of sugary stuff that makes them addicted to it.
And even for adults, if you are eating flour based stuff, or drinking beverages, or consuming processed foods, you are consuming lots of sugar.
Even a slice of whole wheat bread can increase your sugar level than the regular table sugar.
And for instance, to give you a visual idea about how much sugar you are consuming by drinking Coke, take a look at the picture below (courtesy Sugarstacks).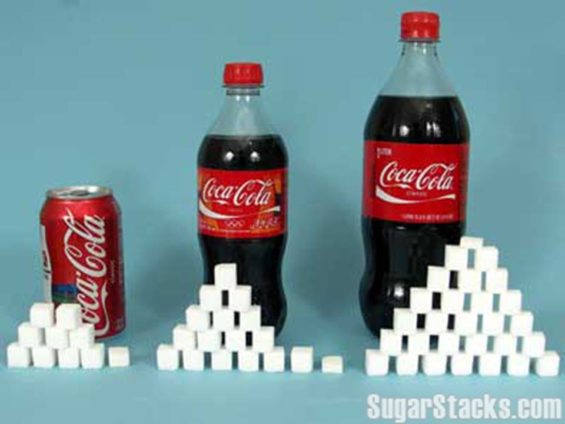 Or Oreos.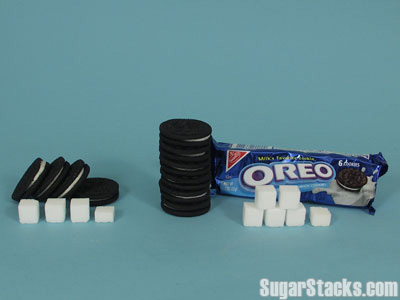 Or Snickers.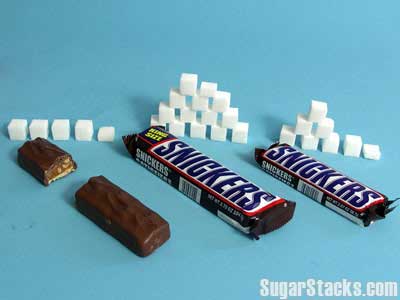 Or any low fat snacks or beverages for that matter!
Alright, why should you bother about doing a Sugar Detox?
Well, Sugar is one such thing that does more harm than good to your body and mind.
It is addictive in the first place. Sugar will mesmerize your mind to keep consuming the same and be happy about it.
But can you be consuming Sugar mindlessly? Absolutely not.
Of the many harms sugar does to your body, the number one thing is that it makes you fat, or even obese.
And when you are hungry, having something sugary will make you feel better, happy and satisfied.
But the harsh reality is that sugar will only temporarily satisfy your hunger or tiredness.
You will soon hit the bottom again once the sugar passes through your system – and yes sugar enters and passes through your bloodstream pretty fast.
For the same reason, consuming too much sugar can make you feel tired often.
And don't think that you are not consuming "too much" sugar. As I said, chances that you are unknowingly consuming a lot of sugar are extremely high!
Not just that, consuming sugar also affects your brain in a bad way.
A study says that by consuming a lot of sugar, you will disrupt your memory function of the brain and will also trigger areas of the brain causing stress.
Another study has proved that when you eat lots of carbs and sugar, you are at risk of cognitive impairment.
Your dental health definitely will take a toll if you have the habit of eating too much sugar.
Less sugar means healthy teeth definitely!
Not just your teeth, but also your liver will be badly affected due to too much sugar consumption.
Liver produces a fat through a process called Lipogenesis when there is excess sugar intake.
And this can lead to liver disease as well as other fatal issues (heart issues too).
Further, would you believe if I told you that if you reduce your sugar intake you will look a lot younger?
Increased intake of sugar makes your body acidic. This means you increase the risk of inflammation in your body.
And that is why you are most likely to get digestive disorders, heart diseases or cancer!
So by going on a sugar detox, you are initiating the good habit of minimizing or completely eliminating the consumption of sugar!
This will give you a lot of health benefits as you now know the bad things sugar does to your body and general well being.
Let's see how to do a sugar detox properly!
How to do a sugar detox properly (steps involved)
The very first step would be to do the prep involved in going through a sugar detox.
Let's plan your sugar detox out!
There are three most important sub-steps involved in planning.
Making a list of things that you consume that have sugar in them (you may have to read the labels closely).
Eliminate those stuff from your sight so you cannot reach out to those when you need to take a bite or a sip.
Decide on how long do you want to run your detox exercise.
You must make a list of things you consume that has sugar in it.
Hot or cold beverages, processed foods, baked stuff and anything that has sugar in it.
Don't forget to take note of food stuff that you top with sugar-related toppings.
Be very careful and open about making this list as missing any food item will defeat the purpose of your detox.
Once you have the list, it is time to decide on either totally eliminating them from your diet or to reduce the intake of sugary items slowly.
Either way, it is going to do good to your health and well-being.
At the same time, make sure you are prepared for the withdrawal symptoms.
Let's go through the steps and precautions involved.
Cut back on or eliminate sugary beverages. If you are a fan of soda replace it with plain water, or unsweetened tea.
And don't be deceived by the word "diet" in soda or any other cold beverages. Any form of diet beverage has sugar in it too!
Once you make a list it is time to cut back on those or completely eliminate them from your life. Yes, life.
What I mean is the "out of sight out of mind" concept.
When you are hungry or tired or have a craving and if you can easily reach out to a pack of potato chips (yes, it has sugar) or have coke in your fridge, you will most likely consume it.
But what if you don't have any of those sugary stuff at your home?
When you are hungry what if your fridge and cupboards just have healthy snacks to bite?
That's what I'm talking about!
Now, you decide whether you want to run the detox for three days, or for a few weeks or a month or more.
If you are planning to go cold turkey and abruptly cut off sugar, then it is good to go for a short term, see how you are coping and then proceed.
If you are planning to reduce the sugar consumption slowly, then it would be appropriate to take this challenge for month(s) straight.
Where to focus on to cope with sugar cravings?
Remember sugar is addictive. And when you cut that off from your life you are going to feel pathetic.
Expect to have mood swings, cravings and what not. You can call these "withdrawal symptoms".
But it won't be as scary as you think. The point is you will first feel worse before you start to feel better.
With a little bit of alternate stuff to focus on, you should be fine.
Relax
Don't stress and don't fret on the little stuff when you are on a sugar detox.
As a withdrawal symptom, it is quite normal to feel irritable, tired and cranky.
So make sure you relax as much as you can to keep yourself calm and support your body and mind in the detoxification process.
Listen to music. Or have a soothing bath. Read a book.
Surround yourself with positive people – and even better, people who undergo the detox process with you so you can be supportive of each other.
Do whatever works for you to keep calm and detox.
Keep yourself well hydrated
Well, water helps you with detoxification in general.
It helps you with getting rid of toxins from your body.
Plus when your cravings hit, drinking water will help you cope with it for a while.
It doesn't mean you should starve and be drinking water.
Eat protein and fats to keep yourself in control
Protein and fat will help you feel satiated and hence help you with the cravings. This includes foods like lean meat, nuts, and the like.
In addition it will take longer for protein and fats to be fully digested, hence making you feel full for longer periods of time.
This way you can be much less irritable and need not give in to your sugar cravings.
Plan your meals
When you are on a detox program, it is highly important that you plan your meals in advance.
If you don't plan you might be forced to compromise on your meals and end up adding sugar based stuff to your diet out of compulsion.
Make sure you purchase the necessary groceries too so you don't have to make any kind of compromise.
Eat colorful veggies (and fruits)
When you add color to your plate, it will lift your mood and will stop you from feeling pathetic.
Not just that, colorful veggies are loaded with antioxidants and nutrients to help you stay healthy, with the natural shine and glow.
Also, vegetables and fruits can make a good snack.
Next time when you are hungry during a sugar detox, reach out for a carrot, or a banana.
Do not skip meals
Now that you are already running low on sugar, hunger pangs are quite normal.
And skipping meals will only make things worse.
If you get hit by hunger pangs quite often, your mood will be bad, you will feel pathetic and you will be tempted to let go of the detox program.
Remember that going on a sugar detox doesn't mean, in any way, that you should be starving.
Just eat healthy, and eat in regular intervals.
Help your body in the process
As your body is adjusting itself and re-calibrating, make sure you support the system.
Aim to assist the detoxification process with some exercise.
And, minimize or totally eliminate your exposure to other toxins as much as you can.
This will help speed up detoxification of your body.
Conclusion
Be it for losing weight, or for your well being, or as a precaution against various diseases – doing a sugar detox is a wonderful thing you can do to your body.
You can either go cold turkey and go without sugar consumption (in any form) for specific number of days.
Or you can reduce the consumption step by step for a few weeks and maintain that way.
In any case, apart from going on a sugar detox, it is much better to be cautious about the amount of sugar you consume every day.
And keep that in check. That's changing your lifestyle, for good.