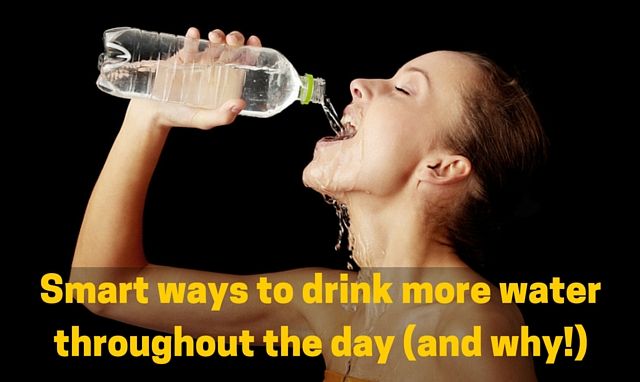 Human body is 70% water and in particular, our brain is made up of 90% water.
So you know you need water for your body to function properly. Well, properly is a very loose term.
If I say precisely, I can go on listing you the benefits of drinking water. I'll briefly let you know the benefits of drinking water.
Why should you drink up (the benefits of drinking enough water)?
Lose weight! – Well I'm sure I got your attention. Water is a natural hunger suppressant and in fact, most of the times when you feel hungry, you could just be thirsty.
Grab a glass of water and enjoy it. This way you can limit your intake of food and prevent unnecessary snacking.
Have clear skin – Water helps you to flush away the toxins in your skin. With enough hydration your skin also becomes elastic and gets a youthful glow.
Get rid of headaches – Water can cure headaches and I didn't believe this until I tried it out. When you have a headache, simply drink up and feel the difference.
Go away constipation – Keeping yourself well-hydrated not only aids in digestion but also regularises bowel movement.
A great detox – Yes, drinking enough water will help flush out toxins from your system. With a regular habit of drinking enough water you could also keep many major diseases (like arterial blocks and cardiovascular diseases) off the fence.
Healthy joints – When you drink enough water and keep yourself hydrated, your joints will be elastic. You can be free from unwanted joint pains that occur due to friction.
OK. Now that you have probably understood the importance of drinking water, let's talk about how to do it.
[clickToTweet tweet="Hate drinking water? Here's how to drink up without hating it" quote="Hate drinking water? Here's how to drink up without hating it"]
Make it a morning routine
If you got yourself covered very first thing in the morning, it will be much easier for you to catch up throughout the day.
In addition, it is also highly healthy to start your day with a tall glass of water. It helps with cleansing in the morning, helps you relax and helps with bowel movement.
Some prefer a glass of cold water, while others like it lukewarm. Whatever your preference is, just make sure you get your glass of water first thing in the morning so it will be easy for you to keep up throughout the day.
Use apps and reminders
We use technology for everything, right? So why not for helping us with getting our water intake?
There are numerous apps that can help you do it. All you need is a reminder in fact. Plus some motivation, may be.
For Android users Water Drink Reminder sounds cool (with Google Fit support).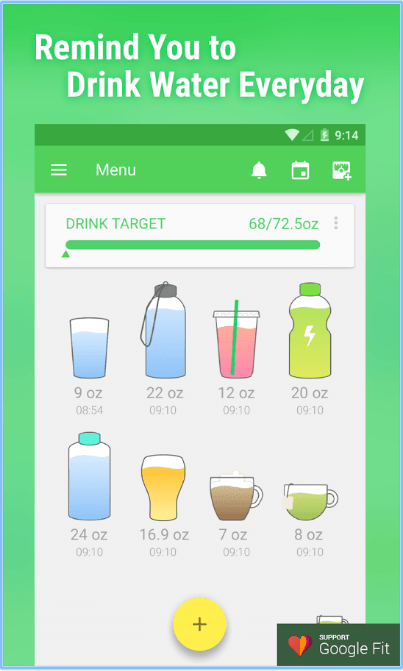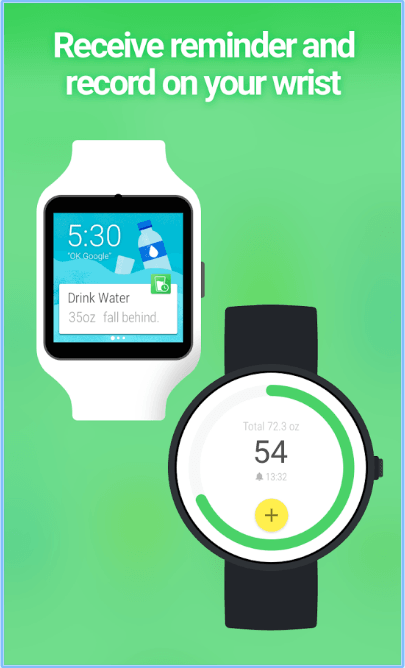 For iPhone and Apple watch users, Daily Water Free is great!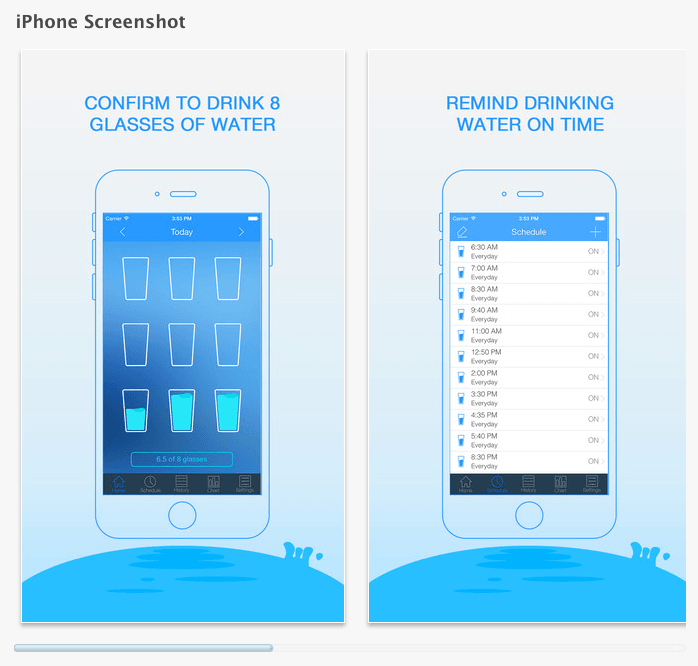 These two are just my personal suggestions. Of course there are numerous other apps. A simple search in the app store would do.
Improve the taste of water (infusion)
Many people hesitate to drink many glasses of water throughout the day just because they are put off by the bland taste of water.
Water does not have a taste, or may be it is just bland. And this makes it challenging to drink water.
That's fine. You don't have to give up drinking water just because you don't like its taste.
You can always add taste to water by infusing it with whatever you like. Lemon, Ginger, Cucumber, or herbs can help improve the taste of water.
Infusing water for taste will also boost its health benefits. For instance, ginger-infused water will help with digestion and weight loss!
If you want your water to be frizzy, you can try some sparkling water (infused).
Eating your water is also possible!
Hate drinking all the time? You can cover your water intake for the day by also eating water.
Well there are fruits and veggies that are loaded with water – so if you are bored with drinking that water in a glass or water bottle, eat up some fruits or veggies.
Watermelon, strawberries, cucumber, lettuce iceberg and the like are juicy and contain lots of water in them.
Munch these fruits or veggies as snack or add them to your salad, or juice them (of course this doesn't count as eating, but still) – if you are going to juice, make sure you don't load up on sugar by adding excess. Most fruits have sugar in them so you can enjoy the juice with its natural taste.
Keep water handy always
I'll raise my hand – if I'm too focused on work, I won't bother to get up and get a glass of water even if I'm thirsty.
Some days I've even gone like that for an hour or more after I feel thirsty. This is certainly not good for my health.
So now, I always have a bottle of water on my table. Whenever I am thirsty, I don't have to break my workflow to get it; or I don't have to stay thirsty and keep working.
I take a sip and continue with my work. Of course I make sure I get up from my chair at appropriate times to fill the water bottle or to relax.
The same applies while you travel. If you don't have water with you, you might not expect to get it when you are thirsty.
Motivate yourself with a goal setting water bottle
I talked about having a bottle of water with you. But having a goal setter water bottle will highly motivate you to drink water (and keep track of how much you drank).
Having such a bottle is not as complicated as it sounds. You can simply mark your regular water bottle with horizontal markings.
Something like this (Courtesy – http://jewelpie.com/)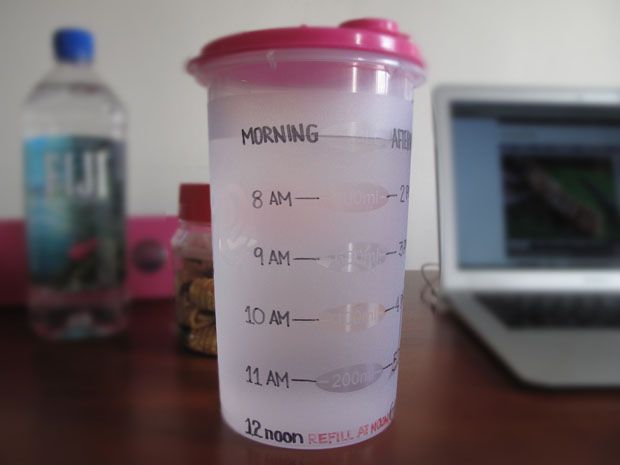 Not just water you know!
Well, here's a little bit of good news. In order to drink water, you don't have to drink water only.
Your coffee, tea, smoothies, juices etc. count. But keep an eye on the caffeine and calorie intake.
You could opt for a decaf coffee or tea. And herbal teas, and green teas are great options too.
Coffee and teas can easily contribute to calories, so you have to limit the intake of the number of cups though.
You cannot drink 8 cups of coffee and count on drinking 8 glasses of water – if you understand what I mean ?
[clickToTweet tweet="You have no excuse to not drink more water!" quote="You have no excuse to not drink more water!"]
So what's stopping you from drinking your water? Drink up and stay healthy!