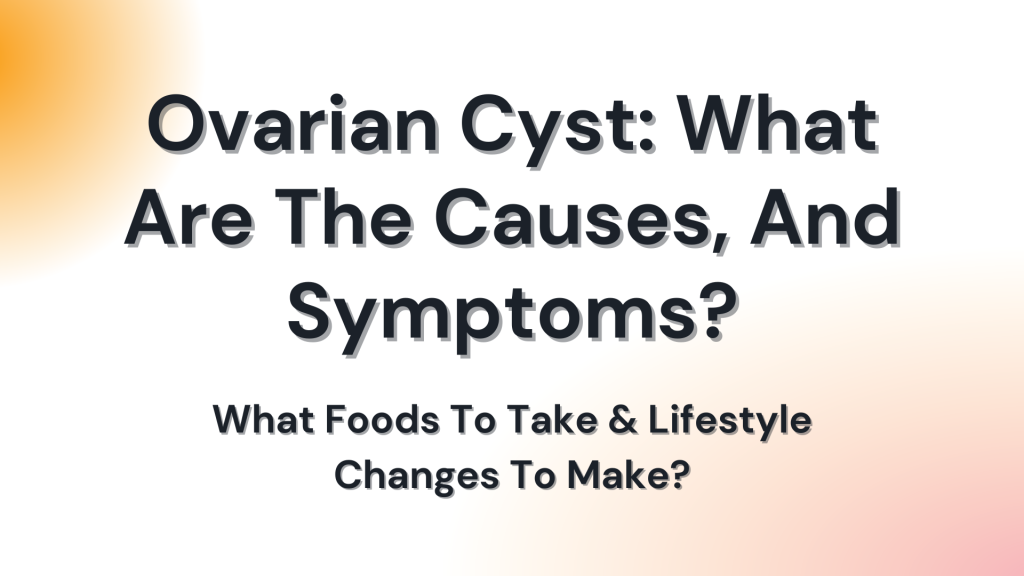 An ovarian cyst is a fluid-filled sac that develops on an ovary. They are very common, and most of the time they do not cause any symptoms and go away on their own within a few months. However, sometimes ovarian cysts can cause pain, discomfort, or other problems.
There are two main types of ovarian cysts: functional cysts and pathological cysts. Functional cysts are caused by normal changes in the ovaries during the menstrual cycle. Pathological cysts are caused by abnormal cell growth and can be more serious.
The most common cause of ovarian cysts is ovulation. When an egg is released from the ovary, the follicle that it was contained in may not close properly. This can lead to a fluid-filled cyst called a follicular cyst. Another type of functional cyst is a corpus luteum cyst, which develops after ovulation.
The corpus luteum is a temporary gland that produces hormones after ovulation. If the corpus luteum does not shrink properly, it can become a cyst.
Other causes of ovarian cysts include:
Endometriosis: This is a condition in which tissue that normally lines the uterus grows outside of the uterus. This tissue can form cysts on the ovaries.
Pelvic inflammatory disease (PID): This is an infection of the female reproductive organs. PID can cause ovarian cysts.
Polycystic ovary syndrome (PCOS): This is a condition that causes women to have too many eggs in their ovaries. PCOS can lead to the development of ovarian cysts.
Symptoms of Ovarian Cyst:
The symptoms of an ovarian cyst can vary depending on the size and type of cyst. Some common symptoms include:
Pelvic pain, which can be sharp or dull
Pressure or fullness in the pelvis
Pain during sex
Painful urination
Heavy or irregular menstrual periods
Bloating
If you are experiencing any of these symptoms, it is important to see a doctor to get a diagnosis.
There are no specific foods that you should avoid or eat while you have an ovarian cyst. However, it is important to eat a healthy diet that is low in saturated fat and high in fruits, vegetables, and whole grains. This will help to keep your weight in a healthy range and reduce your risk of developing other health problems.
Some lifestyle changes that you can make to help manage an ovarian cyst include:
Getting regular exercise: Exercise can help to reduce stress and improve your overall health.
Getting enough sleep: Sleep is essential for your body's ability to heal and repair itself.
Managing stress: Stress can contribute to the development of ovarian cysts. Find healthy ways to manage stress, such as yoga, meditation, or spending time in nature.
Can an ovarian cyst be cancerous?
An ovarian cyst can be cancerous. However, it is important to remember that most ovarian cysts are benign, meaning they are not cancerous. Only about 1 in 20 ovarian cysts is cancerous.
There are two main types of ovarian cysts that can be cancerous:
Epithelial ovarian cysts are the most common type of ovarian cyst. They start in the outer layer of the ovary. About 90% of cancerous ovarian cysts are epithelial ovarian cysts.
Germ cell ovarian cysts are less common than epithelial ovarian cysts. They start in the cells that produce eggs. About 10% of cancerous ovarian cysts are germ cell ovarian cysts.
If you have an ovarian cyst, your doctor will likely order an ultrasound to see if it is cancerous. If the ultrasound shows that the cyst is complex, meaning it has solid areas or irregular borders, your doctor may recommend further testing, such as a CA-125 blood test or a biopsy.
If your cyst is found to be cancerous, your doctor will discuss treatment options with you. Treatment for ovarian cancer typically involves surgery, chemotherapy, and/or radiation therapy.
If you have any concerns about ovarian cysts, talk to your doctor. They can help you determine if you need further testing and can recommend the best course of treatment if you are diagnosed with a cancerous cyst.
Here are some symptoms of a cancerous ovarian cyst:
Abdominal bloating or swelling
Quickly feeling full when eating
Discomfort in the pelvic area
Fatigue
Back pain
Changes in bowel habits, such as constipation
A frequent need to urinate
If you experience any of these symptoms, see your doctor right away. Early detection and treatment of ovarian cancer can improve your chances of survival.
If you have an ovarian cyst, it is important to see a doctor regularly to monitor your condition. In most cases, ovarian cysts do not cause any problems and go away on their own.
However, if you experience any severe pain or other symptoms, it is important to seek medical attention immediately.