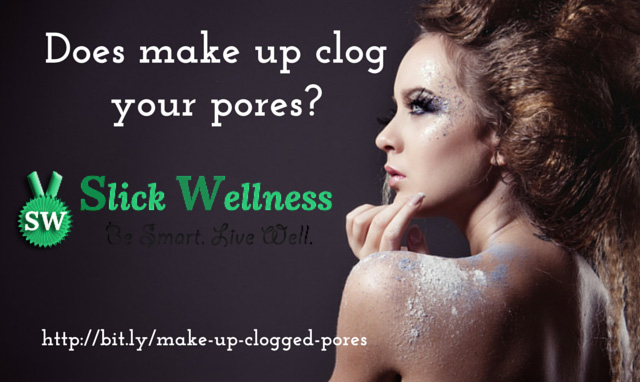 Make up is an integral part of almost every girl's life; but we seldom realize that this too has its very own disadvantages.
Makeup, especially the wrong kind or the excess of it, can be harmful to your skin.
For example, it can clog your pores. Before we go into the innumerable reasons behind clogged pores caused by make-up, we need to know precisely what they are.
Pores are tiny openings on the surface of the skin through which secretion of oil and sweat take place.
They help in the exchange of oxygen and carbon dioxide in the skin, allowing it to breathe. Sometimes, if these pores get blocked or clogged, it might result in blemishes or acne.
Clogging of pores is one the most common skin problems among men and women of all ages. Clogged pores mark the beginning of acne and pimples.
Sebum secreted by the skin is "sticky" and gets jammed in the pores. It then gives rise to a blackhead or a whitehead.
Also called comedonal acne, it will either come out on its own, or if it does not come out then it gets inflamed and infected as our skin tries to push it out.
This leads to the formation of acne and pimples.
Causes of clogged pores
There are many reasons behind clogging of pores. Some of them are:
dead skin cells and bacteria

excessively oily skin

puberty

too much makeup

not cleansing skin properly
Make up and clogged pores
We often fail to see how this apparently harmless, impeccably applied layer of powder really affects our skin.
Applying makeup can improve the look of your skin and at times provide certain benefits like SPF or hydration.
But it must be kept in mind that makeup products often vary based on brands and ingredients. Some makeup products may unintentionally clog pores — an annoying and undesirable side effect.
[clickToTweet tweet="Clogged pores are an annoying side effect of make up!" quote="Clogged pores are an annoying side effect of make up!"]
When we notice such clogged pores, what is the first thing we do? We try to hide it. We usually use make up to hide it.
But little do we realize the irony behind this. Excessive use or improper use of makeup can actually make matters worse.
They can clog your pores and cause blemishes or pimples.
If you do not know your skin and use the wrong kind of foundation, it can cause your skin to break out. Foundation can clog your pores, especially the liquid ones.
One can try to use a sort of natural mineral foundation which is comparatively less harmful. For example, if you have oily skin but use foundation meant for dry skin, it will clog your pores.
Silicone in make up is a major culprit when it comes to clogged pores. Ingredients like mica, isopropyl myristate, zinc oxide, corn starch, titanium dioxide, facial oils and lanolin (this varies slightly from person to person) can also cause pore clogs.
In fact, a change in your makeup regime can also lead to clogged pores because your skin needs to adjust to the kind of make up that you use.
It must be kept in mind that simply cleansing never helps. Unclogging is a lengthy procedure. Scrubbing doesn't help either.
Dermatologists have even stated that the worst thing you can do to a clogged pore is apply make up on it.
If you think about it, you will see how it is a never ending cycle.
You notice a clogged pore and you feel the need to hide it by applying makeup or foundation and that further blocks the pore and your skin acts out in the form of rashes, blemishes or pimples.
What can you do to have make up and not have clogged pores?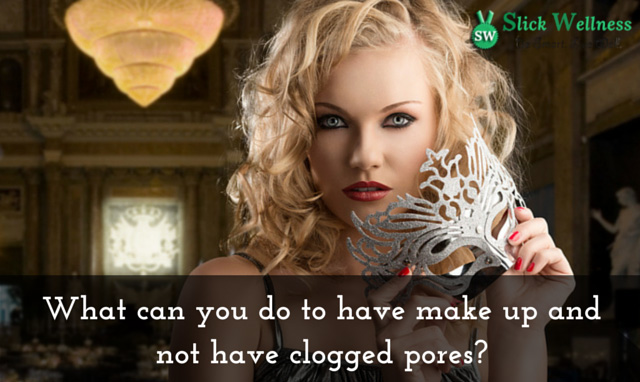 But make up really isn't all that bad. It doesn't mean that you should not apply makeup at all. You just need to make sure that you clean it properly.
There are cleansing solutions or cleansing milk available which can help keep your skin clean and healthy.
Steam is also useful as it clears up clogged pores. Another method of avoiding clogged pores is to use a facial brush made of natural fibers after removing make up with baby wipes or make up remover.
Moisturizers play a significant role in your skincare regimen.
If your skin is too dry, your skin will try to compensate for the loss in moisture by producing more oil.
A well-balanced skin, neither too dry nor too oily is the key to a beautiful, blemish-free skin.
Also, if you have sensitive skin you might try using non-comedogenic makeup. This kind of makeup also called non-occlusive make up, will not clog pores, thus not making you vulnerable to break outs.
Thus, we can say that make up is undoubtedly one of the major causes of clogged pores, but if cleaned and used keeping the health of your skin in mind; make up isn't likely to cause problems to it.