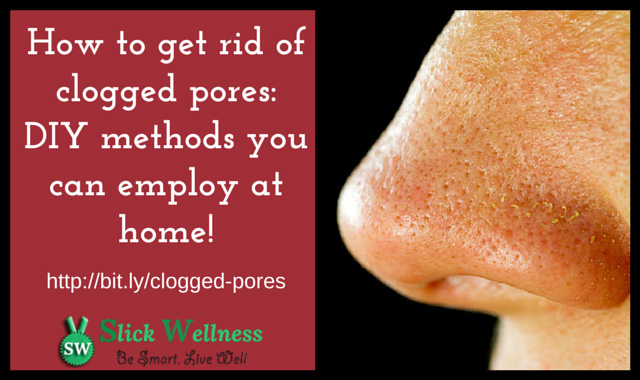 Clogged pores can really be a pain. If not taken care of, they can lead to a lot of problems.
When it comes to clogged pores, you need to do everything you can to eliminate them as soon as possible. Prolonged clogged pores can cause pimples, acne and other issues.
Moreover, if you don't take care of clogged pores as soon as they occur, they will accumulate over the time and getting rid of them will become a tedious task!
You don't have to visit the salon to get your clogged pores cleaned. You can do it right in your home with the stuff you already have. Let's get started.
Steaming to get rid of clogged pores
Steaming is one of the simplest, yet effective ways to get rid of clogged pores. You can steam your face as simple as you can; or you could add some variations to the recipe.
You need a clean face in the first place. Remove any make up and clean your face thoroughly.
Now place some water in a bowl and heat it in a stove. When the water begins to give out steam, remove it from the stove and place it in a table or on the floor.
Take a big towel or a blanket and bend over the bowl of steaming water (don't get too close, you will burn yourself). Now wrap the towel around yourself so you have covered yourself completely and the steam doesn't escape.
Hold on for a few minutes. You will sweat a lot – in fact, your face will sweat a lot and there comes all the dirt and unnecessary stuff out of your pores.
You can stay as long as you want – just make sure you don't burn yourself.
Steaming 2 times a week consistently will help you keep your skin clean.
Egg mask – effective against clogged pores
The white of egg will help clean your pores and as well as tighten them up! Take the white of 1 egg and whisk it gently with a spoon.
Now apply this paste-like sticky egg white on your face covering the area around your eyes as well. You would want to relax for about 15-20 minutes.
Then wash your face with cold water. Use a mild soap or a face wash to clean the egg white on your face completely.
Do this twice in a week to keep your pores clean. Egg white will also tighten your pores so your skin will have an even tone, look much younger and will have less chances to accumulate dirt in the future.
Sugar scrub to banish clogged pores
Sugar is a powerful yet gentle scrub for your face. And it works wonders when it comes to getting rid of clogged pores.
Take a table spoon of sugar in your hand, and add a few drops of olive oil with it. Mix the two together well with your finger so they blend well.
Now apply this scrub on your face and while you do scrub your face in circular motion with your fingers. Cover all the areas. Don't overdo the scrubbing as you might irritate the skin.
Leave the scrub on for 15 minutes and then wash with a mild soap.
Papaya mask to get rid of clogged pores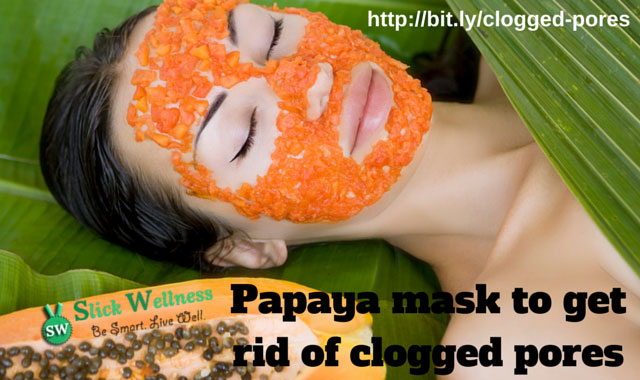 Papaya is very well known to tighten the pores and to increase complexion. If you have clogged pores, applying Papaya mask at least once a week will help a lot.
This is because Papaya not only cleans the pores, but it also tightens them.
You can either cut a piece of papaya and apply it directly on your skin. Or it would be even more effective if you grind a few pieces of Papaya. Now apply the paste all over your face.
If you don't like the feel of papaya flesh, you could take the juice and apply it as you did before.
Leave it for at least 15 minutes, you will feel a tightening effect on your skin which is a good thing.
Wash afterwards with cold water and apply a moisturiser.
Honey, lemon, curd mask
This one is an effective combination to fight clogged pores. I have to give a note of caution here – this mask could irritate your skin due to the addition of lemon.
Also if you have to go out in the sun, do not add lemon to the mix. Otherwise, this is an effective mask! In fact, the lemon is the key here to clean the clogged pores effectively.
Just take 1 tablespoon each of honey, lemon juice and curd and mix them together in a bowl so they blend together really well.
Now apply this paste on your skin – use the mask generously. There could be some dripping due to curd and lemon juice.
Wash your face with cold water after 20 minutes using a mild soap and apply a moisturiser.
General tips to avoid clogged pores!
Now that we have found out how to clean clogged pores, let's see some general ways in which you can avoid clogged pores in the first place!
1. Keep your skin clean. If you go out in the dirt, make sure you wash your face with soap to clean out all the dirt that is accumulated on your skin.
2. If your skin is too oily, take all measures to keep the oiliness in check, because oil attracts dirt and will cause clogged pores.
3. Do not overdo scrubbing as you might disturb the oil balance of the skin. This can lead to clogged pores as well.
4. If you wear make up, make sure you remove it completely before you go to bed in the night. Your skin needs to breathe while you sleep and blocking it with make up will lead to clogged pores.
Have you got rid of your clogged pores?
I hope this post will help you with clearing your clogged pores. All the tips shared above are tried and tested on me and they work.
I also follow the general tips I've mentioned above to keep clogged pores at bay!
Share your experience in the comments below.