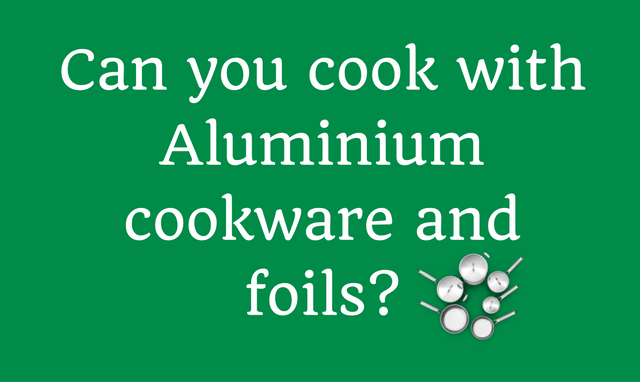 All of us have grown packing our food in aluminium foil or seeing our mother cook up food in aluminium pots and pans.
The sight is familiar. Isn't it?
But with the advancement of science and with researchers digging up new findings every day, there's a finding which shows aluminium is not safe to use in cooking or for that matter wrapping food in aluminium foil.
I'll tell you WHY…
A Canadian research team has found out that there is a relation between Alzheimer's disease and aluminium found on our diet.
There were higher levels of aluminium concentration found in the brains tissues of Alzheimer's patient on autopsy.
The research was conducted on old people having the disease and it was found that during the industrialisation phase, altered living conditions were the causative factor for such 'modern' disease to be developed.
One of the factors was high levels of aluminium in their daily diet. Has that send you in jitters already?
There's a limit to having aluminium in your diet, which is actually harmless. The World Health Organisation has established a daily intake of 40 mg per kilogram aluminium in your diet which is considered safe.
If you weigh around, say, 60, that would mean, you can easily have a safe intake of 2400 per day. We can find aluminium in tea, spices, herbs, corn, etc. Most antiperspirants also contain a viable amount of aluminium.
Aluminium, in its non-metallic form makes up eight per cent of the earth's surface.
Since it is found on earth, we can have its presence in many items, including foods where it occurs naturally.
Water too has its natural content and the municipalities add aluminium in it additionally to treat the water.
Drugs also has aluminium ingredient in them to make it all the way more effective. Some cosmetics too have aluminium concentration in it. Thus, we are more or less exposed to aluminium in our day – to – day lives.
Coming to our kitchen, we see most of our cooking pots and pans are made of aluminium. The popularity of aluminium pots and pans are mainly due to two very strong reasons.
One, they are cheap and two, they absorb heat very efficiently. But with the advent of stylish cooking ware and decorative items, we see the non – stick Teflon pans in our kitchen.
No matter how decorative it looks like, studies have suggested that with use, the non- sticky surface coated pans could cause tiny flecks of chemicals to get into your food.
The health effects –
Although we are surrounded by aluminium everywhere, starting from our window panes to doors, to our kitchenware and the environment, it can sometimes cause dire consequences for our health.
Of the aluminium we ingest in our daily lives, about 99 percent is excreted by our kidneys, except in patients suffering from renal failure.
[clickToTweet tweet="Aluminium cookware and foils. Are they safe?" quote="Aluminium cookware and foils. Are they safe?"]
The aluminium which retains in the body becomes a cause for 'dialysis dementia'.
Additionally, dialysis patients, often suffer from anaemia and a form of metabolic bone disease.
Some precarious steps and advices by experts –
You can always be precarious and take your own steps to minimize the amount of aluminium to get into your food from your aluminium cookware.
To do that, avoid cooking acidic food (tomato juices, vinegar, orange juice, or lemons) or food which requires mixing up with rich spices in aluminium pans.
Avoid and try not to store leftovers in the pans, as soon as it cooked, pour it down in a glass bowl, because more aluminium is absorbed from the pan, the more it sits.
It is advisable to throw out your old, worn out aluminium cookware as it dissolves more aluminium out of the old, aging ones.
When you decide on buying a new one, upgrade yourself to anodized aluminium pans.
The manufacturers of anodized aluminium claim that anodized aluminium cookware 'leaches about 35 micrograms' of aluminium into your food with each use.
It is non – toxic and also heat resistant to the point of melting point of aluminium.
But then, if you use it repeatedly, it is bound to cross the 50mg mark. So we need to ponder if it makes the cooking any safer.
Although, it is impossible to live aluminium-free due to its presence everywhere around us, be that in our utensils or environment, we can minimize the risks:
Avoid storing foods in the aluminium cookware
Do not cook food in the aluminium cookware for longer duration, go for other cookware like copper, glassware, instead
Aluminium pots and pans when made are oxidised, to prevent the aluminium leaching into your food. Hence it is advisable to not scrub it hard while washing the pans, else the inert layer tends to get diminish and there are chances of the aluminium getting into your food
One way to prevent the aforementioned problem is to boil water in the aluminium pan. Once you buy an aluminium cookware, it is suggested that you boil water in it as many times as possible until the inert layer becomes matt. This remedy causes a natural oxidation for your cookware and prevents the food from leaching
For baked dishes, it is advisable to cook the food in glassware or porcelain, and not wrap the food into aluminium foil.
Since aluminium foil is disposable, studies suggest that the migration on aluminium into the food is above the permissible limit, set by WHO, when cooked ion aluminium foil and mixed with highly acidic or spicy ingredients
Also do not wrap your food for longer duration into the foil, as after a period of time, depending if the food is acidic or spicy, the foil starts leaching and gets inside your food.
There are many studies that have proved aluminium to be not safe for cooking, but there are remedies too as to not allow the aluminium from entering the food.
So, with changes in our lifestyle and environment, we need to be precarious as there are many 'modern day' diseases coming up of which some are such we are not even aware of.
Hence, since a permissible limit is allowed, we need to be careful not to allow in our diet the level which surpasses the permissible limit.