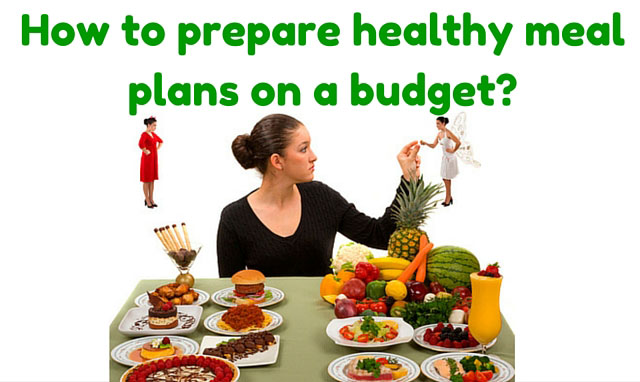 Healthy meals are a must in case you want to maintain optimum health levels for both you and your loved ones. A nutritious, healthy balanced diet is absolutely essential for maintaining overall good health of the body.
Healthy meal plans need to be formed by you, for your own welfare. But simply planning and deciding of healthy meals will not do, you need to stick to them too.
Healthy meal plans will not only keep you healthy and happy but will also help you in shedding those few extra kilos in case you are overweight or chubby.
What is a Healthy Meal?
Have you heard of the saying that you should eat breakfast like a king and dinner like a beggar? Well, this is absolutely true.
You should not skip breakfast under any circumstances, it might cause you to gain weight. But do not start the day with something greasy or oily, as that will leave you feeling thirsty and bloated throughout the day.
Plan your healthy breakfast beforehand. Do not consume high sugar amounts right in the morning, that might send your blood sugar levels soaring through the roof.
Eat something like oats or porridge, or muesli with low fat milk, or a bowl of fresh fruits like apples, low calorie toast and baked beans.
Drink a glass of fresh fruit juice along with that to make your meal wholesome. Avoid drinking coffee as much as possible.
For lunch, you should go for high protein meals with low carbohydrates. Proteins are a rich source of energy and it satisfies hunger as well. Eat some vegetables or pulses and some animal proteins to keep you going through the day.
In the evening, avoid binge eating. You are bound to feel hungry, so eat something healthy like fruits or dried fruits or a warm cup full of tea to rejuvenate you.
As for dinner, keep the carbohydrate quantity as less as possible. Eat fish or meat or chicken, whichever you want, along with lots of green leafy vegetables for a healthy balanced meal.
This is a basic idea of what a person's ideal healthy diet should be like. But it must not be forgotten that a person's diet depends on a number of different factors.
Some of these factors are – the person's age, his or her gender, his weight, if he has any history of illnesses, his lifestyle -that is if he or she stays at home or goes out to work or goes to school et cetera. No two persons can have the same diet plan.
Each person has different requirements and all of those must be fulfilled. It must be remembered that a deficiency in any of the essential nutrients in our body may lead to serious disorders.
Thus, we should plan healthy meals with utmost caution and look at all these different parameters before deciding upon a plan.
Why Are Budget Meal Plans Important?
We all know how important budget meal plans are in our day to day lives. And most of us are deprived of such healthy meals because we cannot afford them.
The harsh reality is that most of the healthy or highly nutritious food items that are found in the markets are extremely costly and most ordinary people cannot afford to buy them on a regular basis.
Every household has a fixed budget for spending on groceries and food items, and it is not advisable to exceed that budget under any circumstances.
And we are often at a loss about how to eat healthy on a budget! So does that mean that you will not get healthy meals, just because you are falling short on money? The answer is, no.
Nowadays, healthy food items are being introduced in the market which are comparatively cheap and pretty reasonable. These products are priced in such a way that they fit comfortably within your budget.
You can now buy these healthy food items without burning a hole in your pocket. Thus healthy eating on a budget is necessary.
How To Eat Healthy on a Budget?
A few tips for healthy meal plans on a budget –
Plan all your meals ahead. Before the week starts, plan whatever healthy food you want to cook that week and go shopping accordingly.
Make a list of all the recipes that you and your loved ones enjoy and see how many of them you can accommodate within your budget.
Do not throw away leftovers or portions that you did not utilize while cooking. You can use the same cut of chicken or meat in many different ways. Think about that before you start cooking.
Vegetables might be healthy, but some of them are downright expensive. So go for vegetables that are cheap and make great, healthy dishes out of them. Also, did you know that frozen vegetables are much cheaper? These are great ways of cutting down on your budget.
Maintain your own vegetable garden. Not only will it reduce costs, but also give you fresh produce to cook with.
Make a wholesome, nutritious breakfast meal in bulk. Use the same meal for the whole week. Say you have porridge and muesli, repeat these two for that week and change it the week after.
If you have food remaining from last night's dinner, convert that into lunch. Cook a little extra at night and save money when morning comes.
Vegetarian food helps you save money, but is at the same time healthy. Animal proteins naturally cost much more than vegetables and pulses. Both are sources of proteins, then why not go for the cheaper option?
Preserve food. There is no point in buying something and then letting it go to waste. Preserve ingredients too. Buy raw materials that can be kept for long periods of time
Choose ingredients wisely. Don't make random meals. Keep common ingredients to reduce the cost to great extent.
Thus, you see how important meal planning really is! If you are health conscious and like to keep a strict watch on the kind of food that is being consumed by your body, you should maintain healthy meal plans for good health.