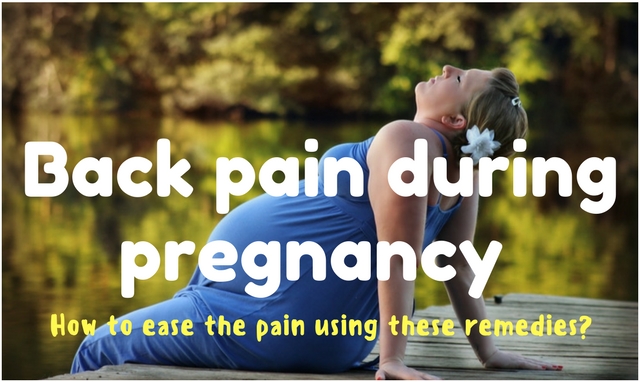 Do you complain of severe back pain during your pregnancy? Though mothers-to-be expectantly await their baby, 50 to 70 percent of them also experience back pain during pregnancy.
Back pain can be due to many causes, but it is a different story when it occurs in the second half of your pregnancy.
Though back pain is common in all pregnant women, those who are overweight or have had back pain previously are more prone to this challenge.
Lower back pain during pregnancy happens at the sacroiliac joint, which is where your pelvis meets your spine, which can be due to –
Sudden weight gain in pregnancy
Posture changes, which you might not even initially notice
Hormonal changes, the hormone relaxin can cause ligaments in the spine to loosen, leading to pain
Muscle separation between the rectal abdominis muscles
Emotional stress
Now that you know the cause of back pain, here are some remedies which can be done to ease your trouble.
Keep in mind that back pain during pregnancy cannot be completely prevented, but you can always minimize the frequency and intensity over the months.
1. Hot or cold treatment
To relieve the pain, you can put a cold compress on your back for 20 minutes several times during the day.
A cold compress can be made by wrapping up frozen vegetables in a towel or a bag of ice, which helps in reducing inflammation.
Switch to heat after a couple of days by putting a hot water bottle on your back, but be careful to not avoid your abdomen.
2. Improve your posture
During pregnancy, it is difficult for you to maintain a good posture. However, slouching strains your instable spine which leads to back pain during pregnancy.
Keep a pillow between your knees during sleep to help relieve stress off your back.
Place a rolled-up towel to support your back when sitting at a desk, or rest your feet on a stool.
Sit up straight with your shoulders back. If the pain persists, you might consider wearing a maternity belt.
3. Light physical exercise
Once you are feeling better, go for light exercise under the guidance of a teacher.
Also known as pre-natal yoga, this will relieve those women who suffer from muscle pain, joint pain, nerve and back pain in addition to improving their posture and toning their body.
Prenatal yoga can also help you with emotional stress with deep-breathing exercises, relaxing your mind and muscles and enabling you to sleep better.
4. Meditation for back pain during pregnancy
Meditation is one of the simplest things to relieve physical, mental or emotional pain during pregnancy. Simply lie down in a quiet place with calming music and focus on your mind and breathing.
Meditation relaxes your brain to control stress hormones, and aids in reducing blood pressure and muscle tension. It also increases your pain tolerance level, which will help you cope with delivery pain.
5. Sleep support
Back pain during pregnancy will make your nights harder, since most women sleep on their sides. Doctors advise to roll up a thick towel and place it perpendicular to your body at the waist.
The towel will ensure support throughout the night without readjustment. An alternative would be to use a pillow between the knees to reduce pressure on the knees and lower back.
Sleeping on the side is actually helpful as it optimizes blood flow to the baby.
Body pillows and firm mattresses are good for your chest, hips and lower back and doctors also advise good sleeping habits for best results.
6. Chiropractic care
Chiropractic care is a series of techniques used to relieve back pain, and many women have actually benefitted from it.
These techniques include joint manipulation, soft tissue work and exercises to help pregnant women with muscular pain.
For the safest experience, consult your doctor beforehand and choose a chiropractor who works with expectant mothers.
7. Pain medications
Medications, be it oral or topical, should always be taken under the recommendation of your doctor.
Your doctor would put you under Acetaminophen (Tylenol), or other pain medications or relaxants for pregnant women.
However, aspirin and other non-steroidal inflammatory drugs are not advised.
8. Prenatal massage
Once you have entered the phase of pregnancy, back rubs and massages can relieve severe back pain.
Request your spouse, a friend or a massage therapist to massage your back with herbal oil to help reduce depression and anxiety in pregnancy.
A good prenatal massage is gentle with long and smooth strokes that will relax you.
Consult your doctor to ensure that prenatal massage is safe for you, and then choose a certified therapist experienced in working with expectant women.
A side-lying position is said to be the best for pregnant women.
9. Wear proper footwear
Once you are pregnant, you need to explore more into maternity fashion. For one, replace your high heels with flats or 1-inch heels with an in-built arch support.
High heels are not only unstable during pregnancy, but they also leave your poorly supported and create pressure on your lower back.
The correct shoes will ease your back, help you with managing back pain during pregnancy and provide proper support to your spine.
10. Kitchen remedies to combat pregnancy back pain
Milk is your best beverage during pregnancy as it provides calcium and protein to your body. Another option is to make a mixture of cuscus grass and sugar in equal amounts and consume it with warm milk.
Chamomile tea will also help relax your muscles and reduce. Make a cup of tea by adding a tablespoon of chamomile flowers to one cup of boiling water and letting it simmer for ten minutes.
Epsom salt baths are also excellent for back pain during pregnancy, and helps relax your tense muscles as well.
The method is just to add in a few handfuls of Epsom salts to your bathtub of warm water.
Back pain during pregnancy can be a harassing experience, therefore you should consult a doctor under the following circumstances –
Severe lower back pain, which doesn't go away after days or is still there when at rest
Weakness or numbness in legs, and you have difficulty standing
Loss of control over your bladder
Rhythmic cramping pains, which could indicate the onset of preterm labor
Even after trying the above mentioned measures to eradicate your back pain, if the back pain still persists, you must visit a doctor, and not keep it unattended.